by allancarreon on Nov.29, 2016, under Film & TV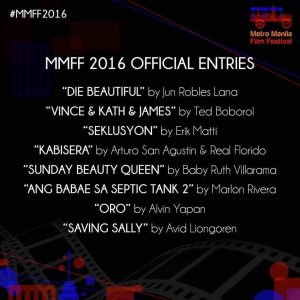 This year, finally after such a long time, the Metro Manila Film Festival (MMFF) shifts back its focus to actual quality films rather than mere commercial fare. Of course, the final judgment on the quality of the films will happen once they are shown, but a quick glance at the list of eight films that made the cut shows an array of out-of-the-box choices that hasn't been seen in the festival in a couple of decades.
You see, at some point in the last ten to twenty years, the MMFF became a mere money-making venture, quality be damned. I have no idea at what point this change towards blatant commercialization happened, but it was definitely a contributing factor to the deterioration of quality film-making in the country. This is not to say there have been no good MMFF films in the last decade or so because there certainly have been. However, the garbage has far exceeded the diamonds when it came to the MMFF in recent years.
Leave a Comment
:
Metro Manila Film Festival
more...