by allancarreon on Feb.22, 2017, under Travel & Culture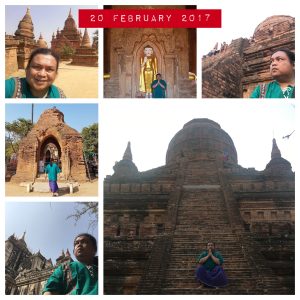 We woke up early on Monday morning to catch the sunrise of Old Bagan. We'd previously made arrangements for a ride to bring us to Shwe San Daw Pagoda. It was only MMK15,000.00 for the car, which is approximately around PHP552.00 or USD10.00. Since there were two of us, it was even cheaper per head.
Two things to note: that was one heck of a steep climb (and in the dark, since we arrived pre-sunrise, obv), and the place was jampacked with tourists. If you were hoping to go there to pretend to be all peaceful and zen, don't count on it. That said, it shouldn't be a deterrent, and with a few well-placed angles of your camera and/or selfie stick, you can give the illusion that you have the place all to yourself. Just don't fall off any damned ledge, and you should be good. It's also nice to meet other backpackers from all over the world.
Leave a Comment
:Myanmar, New Bagan, Nyaung-U, Old Bagan
more...