by allancarreon on Dec.08, 2017, under Music & Theater, Society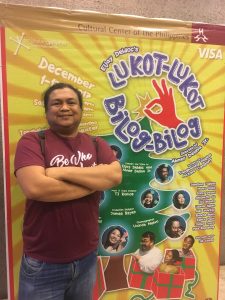 Tanghalang Pilipino closes out the year with the hilarious yet educational Christmas-themed play Lukot-Lukot, Bilog-Bilog, written by Eljay Castro Deldoc and directed by Abner Delina, Jr.
The title is a reference to money, with lukot-lukot referring to "crumpled" (paper bills, that is) and bilog-bilog referring to round (coins, to be exact). It is an interactive staging that seeks to provide some financial literacy to the audience while at the same time ensuring an enjoyable time for all. I went to the Press Night last weekend not knowing what to expect (especially since I just came from watching Matilda in Meralco Theater a couple of hours prior), and despite my preconceived notions about a "financial literacy comedy," I came out very happy.
Leave a Comment
:Christmas, Lukot-Lukot Bilog Bilog, musical theater, Tanghalang Pilipino
more...