by allancarreon on May.21, 2021, under Film & TV, Geeky, My Life, Queer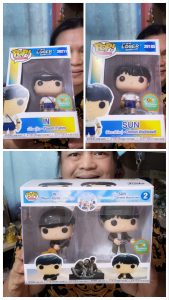 It's such great timing! The customized Funko Pops that I had made for In and Sun, two of my favorite Thai BL characters, were delivered just a few days before the 24th birthday of Pluem Purim.
Pluem, of course, played the character of In in My Dear Loser: Edge of 17, while Chimon Wachirawit played Sun opposite him. The characters did small cameos in My Dear Loser: Happy Ever After before fully reprising the roles (and tying loose ends) in the second episode of the Our Skyy anthology, Our Skyy: #InSun.
There have been so much merchandise for other GMMTV properties, so it's always been a frustration of mine that these two underrated characters have not been given much attention. Now, I had learned about a Funko customizer last year whom I commissioned to create customized Funko Pops of me and my friends. So this year, I decided to again commission from Oda Exclusive Custom Pops: In and Sun funkos!
Originally, I was deciding if I should do In and Sun in My Dear Loser or if I should go for their Our Skyy looks. Then I realized – why not both? I commissioned individual In and Sun boxes for My Dear Loser and then got a twin pack for Our Skyy.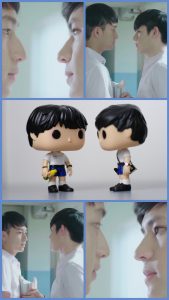 Collaborating with Eugene Oda on pops is always easy and great. There are always good suggestions while taking into account details you want. Eugene also searches for various options and will try to find what suits best. And for someone as OC and creative-minded as me, I have a lot of things I do want to see (thanks for the patience!).
But Eugene always delivers. The level of detail in the final work is amazing. I mean, the Oishi bottle I added for Sun's MDL funko and the guitar for In's Our Skyy funko are just superb. Even the boxes – for which I had very detailed specifications (I even created logos) – are astounding.
Eugene transforms your vision into reality.
So what's next? I loved working on the Our Skyy twin packs so much that I plan on commissioning the entire series: PickRome, TeeMork, PeteKao, and KongpobArthit. And after that, I have a lot more in mind.
Watch out for those!
Aside from Facebook, you may also follow Oda Exclusive Custom Pops on Instagram.
:#InSun, BL, Chimon, Chimon Wachirawit, GMMTV, My Dear Loser, Our Skyy, Pluem, Pluem Purim, Thai, Thailand