by allancarreon on Nov.14, 2016, under Travel & Culture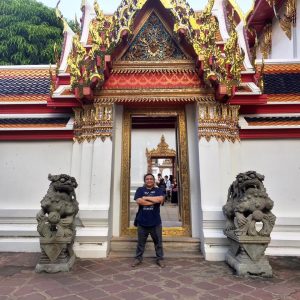 Continued From:
So my first day in Bangkok continued immediately after my tour of the Grand Palace. Next stop: the famous Wat Pho.
As it turns out, much like the Grand Palace, Wat Pho is not just one temple; it's a complex of temples and structures, several of which houses various Buddhas. Exploring the place also required some major footwork.
And it was just as wonderful.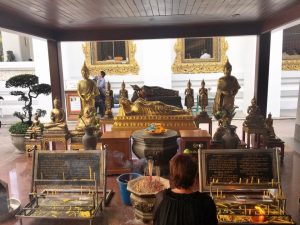 Wat Pho is a Buddhist temple complex located directly south of the Grand Palace. Technically, it's just across the street. However, the entrance and exit of the Grand Palace are on the other side, and you need to go around the block to get to Wat Pho. That's about a ten minute walk, given how enormous the Palace grounds are.
Wat Pho is also known as the Temple of the Reclining Buddha by virtue of its most famous and, if I'm not mistaken, largest resident. A temple classed as being of the highest grade of first-class temples, it was rebuilt by Rama I on an older and earlier temple site; it was the monarch's primary temple, and some of his ashes are enshrined therein. Inside the complex is also a Thai school of medicine. Additionally, traditional Thai massage originated from Wat Pho, and here it is still taught as well as practised (I actually wanted a massage, but the queues were long, and it was getting late).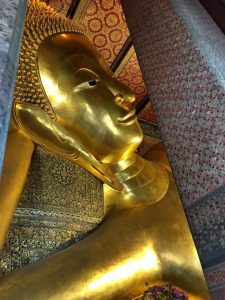 There is a lot to see, and trying to name them all would be too extensive. The two highlights, I would say, are the Reclining Buddha as well as Phra Ubosot, which is the ordination hall and the most sacred of the buildings in the entire complex.
The Reclining Buddha is massive at 15m high and 46m long. This astounding image represents the end of all reincarnations and the Buddha's entry into Nirvana. The soles of the feet are opulent, consisting of designs associated with the Buddha, including flowers and tigers and elephants. In the corridor are 108 bronze bowls; visitors drop coins across all these bowls for good fortune, and the money helps in the maintenance of the wat (temple, in case you haven't figured that out).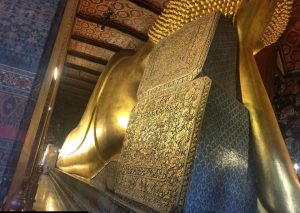 Meanwhile, Phra Ubosot is located at the center of the courtyard, resting upon a raised marble platforms. Visitors may enter the hall, which houses another big Buddha, but shoes are to be taken off, and legs – when one is seated – should be folded in such a way that the feet do not point towards the Buddha as that is considered a sign of disrespect.
I was fortunate enough to have gone into Phra Ubosot during a gathering of monks in what I assume is a prayer ritual.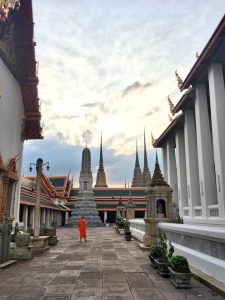 There is a gentility that I noticed about the monks, very much akin to how I envisioned them to be from reading books and watching movies (many of them have cellphones, too, just in case you think they're stuck in some time warp). They are also afforded great respect by the populace, and they get special attention – for instance, there were two monks whom I assumed are touring visitors who had an escort who gave them special access to the shrines and other structures.
Wat Pho is a great place to visit if you're new to Bangkok and love temples, architecture, and history. You can explore on your own, like I did, or you could hire one of the many tour guides plying their trade within the walls. I chatted with one of them, a Thai lady who was showing around a Caucasian couple; she was delighted to find out that I'm Filipino because it turned out her best friend is a Filipino, and she believed Filipinos are the friendliest people on the face of the planet. I cannot really disagree with her, but I have to say that Thai people come close to us.
As of this writing, the entrance fee to the complex is 100 Baht, which is about US$2.80 and is not bad at all. The complex closes at 6:00PM, so if you visit this in tandem with the Grand Palace (which I highly recommend), go to the Palace first as that closes at 3:30PM.
One last note: wonderful Wat Pho is almost like a maze and, even with a map, I nearly got lost trying to find the exit later on.
Or perhaps, just as with the Grand Palace, I was simply lost in its beauty, serenity, culture, and majesty.
Bangkok is indeed beautiful. If you've never been there, put it on your bucket list.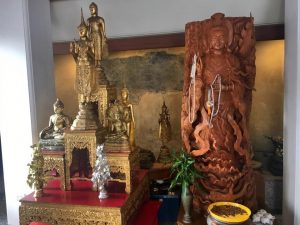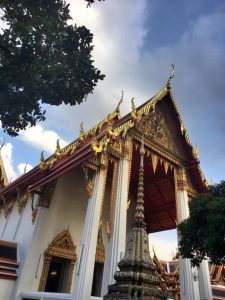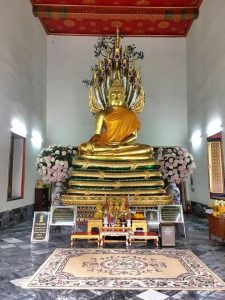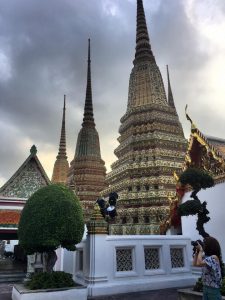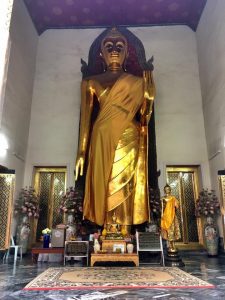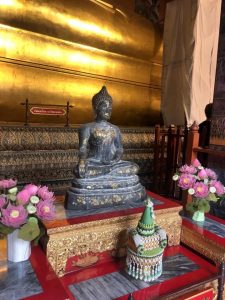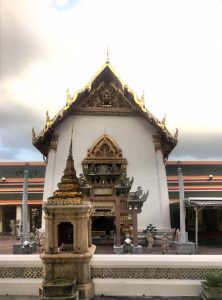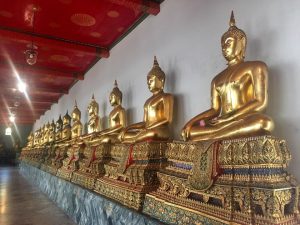 :Bangkok, Grand Palace, Wat Pho