by allancarreon on Nov.09, 2016, under Film & TV, Music & Theater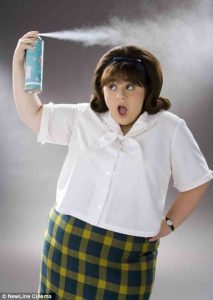 Well, if we base it on Wikipedia or IMDB, not much in the last few years.
Too bad. I do think she was perfectly cast (a complete newbie) in the movie adaptation of what is perhaps my favorite musical, Hairspray. She's since had a few appearances here and there, and I read that she's also performed on cruise ships, but over-all I guess her career had never really taken off.
She's a talented singer, though to be fair she's a so-so actress, and perhaps that's the reason for her lukewarm career. Then again, she seems trainable; perhaps she could've tried Broadway?
In any case, I do hope she's out there, somewhere, still singing.
Happy birthday, Tracy Turnblad!
:
Nikki Blonsky