by allancarreon on Aug.27, 2017, under Literature, My Life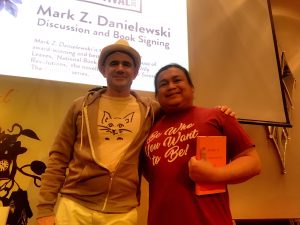 Yesterday, I and fellow Library Undergrounders Deo and Roni (now also christened "Bibliophibians" by Jessica Z.) went to the 2017 Philippine Readers and Writers Festival in Raffles, Makati. Originally, my plan for the weekend had been to go to the 2017 Asia Pop Comicon; however, given that my interest in that event plummeted due to a tepid guest list that I wasn't really eager to see, it was an easy choice to switch to the literature festival instead.
Jessica had invited us to attend the Q&A session she was hosting for award-winning author Mark Z. Danielewski, who wrote such best-sellers as House of Leaves, Only Revolutions, The Fifty Year Sword, and the (planned) 27-book series The Familiar, four of which have been released and the fifth coming out this October.
Yes, that's right: 27 books planned. Because George R. R. Martin needs some truly serious competition at this point in time.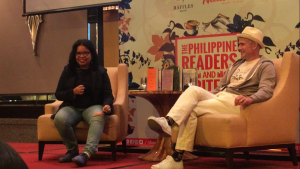 I confess to being only marginally familiar with Danielewski's work, and hearing about House of Leaves from friends and the approach he takes in producing his work kind of intimidated me.
That said, since I was attending his Q&A slash book signing session here in Manila, I thought it would be prudent to start somewhere, and I chose to get The Fifty Year Sword. After all, I am nothing if not a huge fan of ghost and horror stories, and The Fifty Year Sword is also apparently one of his shorter and easier to digest works.
Hearing him during the Q&A definitely made me see how cerebral this man is. Some of his ideas may seem too out of the box for traditionalists, but art does evolve, so creativity is a must. I doubt I will be able to capture in my own words everything that I absorbed from him, so here's the entire session which I recorded.
That discussion certainly made me further intrigued with The Fifty Year Sword, which I shall dive into starting today. It may even finally get me to House of Leaves and The Familiar.
He's also a pretty laidback kind of guy, one who's pretty friendly… and hello, he likes cats!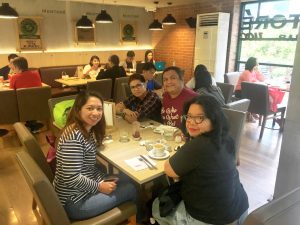 After the Q&A, Jessica, Deo, Roni, and I went to Mentore by UCC Cafe. I finally got to try their Kori Kohi iced coffee cubes; the last time, my friend Bj had tried it but broke the glass, and it was their last for the day. I also had the very tasty Truffle Mac and Cheese, which was quite divine.
We spent the time catching up, especially on Game of Thrones, but of course, we not only reminisced about 90s shows like GoBingo (where a famous actress declared that the sleepy dwarf is named "Snooky" and another one confidently identified Suzette as the Ranillo who starred in Kristo). We had to initiate Jessica into the wonderful world of wasting hours and hours of watching YouTube clips of Ika-Anim Na Utos.
Because photocopiers and balut are always the perfect arsenal against mistresses.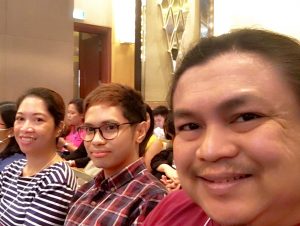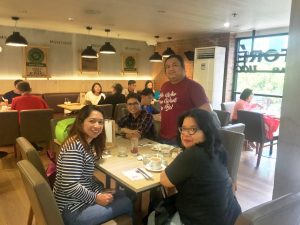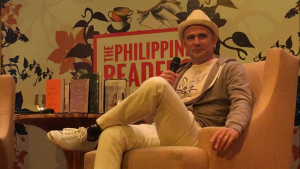 :Bibliophibians, Jessica Zafra, Mark Z. Danielewski, Phillipine Readers and Writers Festival, The Library Underground