by allancarreon on Jul.19, 2019, under Music & Theater, Society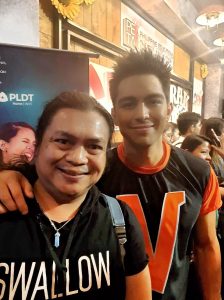 I can never get enough of Rak of Aegis. Recently, Season 7 opened, and of course I had to see it again (third time, the most recent being last year).
What I love about Rak is that – like many original Filipino musicals like Zsazsa Zaturnnah, Ako Si Josephine, and Kung Paano Ako Naging Leading Lady – every run adds new spins. Updated jokes that reference current events and pop culture memes are inserted, making each run feel fresh again while retaining everything that made the show successful.
Rak of Aegis Season 7 is such an experience. On top of small reinventions, new cast members are placed into the mix, giving returning audiences the opportunity to see different interpretations of classics.
And so it goes that we once again experience the travails of Bgy. Venizia, which gets flooded for months after a the construction of a gated community nearby prevented proper drainage. Against this backdrop and the backdrop of a social media age where virality is the way to fame, the community's diverse array of residents struggle to cope with poverty, love, friendship, and ambition.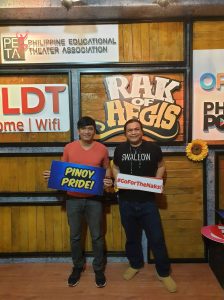 For this run, I saw prior faces and enjoyed several new ones. Everyone was fab, but I would highlight some standouts.
I first saw Shaira Opsimar in her debut last season, and she remains to be a powerful and charismatic Aileen. She brings a breath of fresh air to the role that makes her relatable and vulnerable, giving her a strong presence and enabling her to carry some of the most powerful moments remarkably.
Finally I got to see the iconic Sweet Plantado perform live. I've always been a fan; she did not disappoint as Mary Jane. Aside from her vocal prowess, Sweet makes the beleaguered barangay captain more grounded than ever – a woman caught between her past and present, and a leader faced with difficult choices.
I cannot say I was ever a fan of Renz Verano, but he is still a legend. That singing voice is perfect for the songs of Aegis. I've watched several Rak runs, and all Kiels have been great, but I have to say that Renz has been the most appropriate casting choice so far. He imbues a certain world-weariness to Kiel, one that makes you empathize with a tired middle-aged man simply trying to give his family a better life while fighting for his dignity.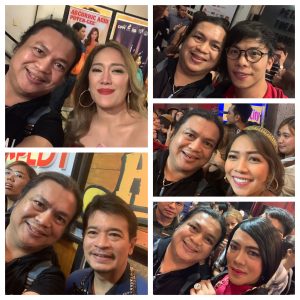 This is the first time I've seen Poppert Bernadas as Kenny, and given the prior runs have I've seen featured the Mike Salomon, Poppert had big shoes to fill. While he doesn't quite have the angas that Myke utilized, Poppert brings a different kind of charm to Kenny – along with excellent vocals – that makes him just as complex and interesting. Poppert makes Kenny seem just a teensy bit less douchey and just a teensy bit more sympathetic.
Then of course there's Derrick Monasterio, making his debut as Tolits. It's no secret that I'm a big fan of Derrick, whom I once referred to as a triple threat, and his turn on the musical stage further proved it. Now, to be very honest, when I first heard he would play Tolits (and not Kenny), my immediate thought was that it was an unusual choice.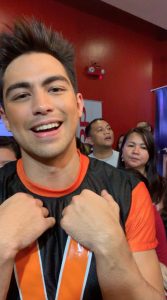 In my mind, Pepe Herrera had made the role of Tolits so his own and so memorable that it was hard to imagine someone else doing it, especially someone so different like Derrick. But it worked perfectly – because rather than simply delivering like Pepe, Derrick infused his own unique take on the role, giving Tolits character nuances that were still true to who Tolits is but with a new flavor. Derrick gets two thumbs up and more (and he should do more musicals, he's great).
The rest of the cast deserves equal praise, and so does the entire production – from the direction to the staging to the music to… everything, really.
Every year, it seems like Bgy. Venizia is like that old friend you see after a long while – ever changing yet still the same. We need Rak of Aegis in our lives. It always gives us hope in a sometimes-dreary world, where the beauty of music can lift our spirits in the midst of tragedy. Among the best stories are those that give us a glimpse of society and of ourselves.
And of course, those songs – which, as any great OPM song does – has been stuck in my head for several days now. So much so that I think it's time to stress my vocal cords once more with friends, trying to sing Aegis at least five octaves higher.
Catch Rak of Aegis Season 7 at PETA. Shows run until September 2019. I bought my tickets at Ticketworld. Do yourselves a favor and catch it!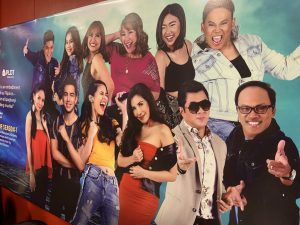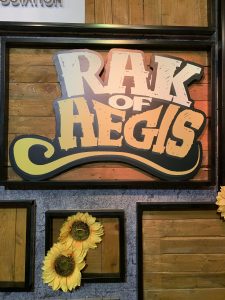 :Derrick Monasterio, musical, musical theater, Poppert Bernadas, Rak of Aegis, Renz Verano, Shaira Opsimar, Sweet Plantado