by allancarreon on Sep.24, 2016, under Film & TV, Music & Theater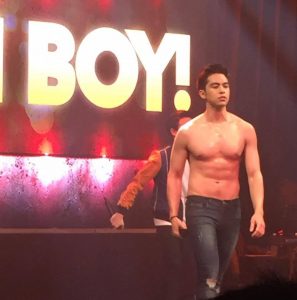 So my friends and I watched Oh Boy! at the Music Museum last night. Yes, yes we did. The primary common driver for most of us was to see rising artist Derrick Monasterio, whom I've been a fan of for a few years now. We've also been quite fond of all the other performers – particularly Aljur Abrenica and Jake Vargas, not to mention Rocco Nacino – but Derrick was really the main guy for three out of the four of us.
Because, well, look at him.
That being said, let's also be fair. I admired him way before he decided to beef up. There's just something charismatic about this young man, who turned 21 this year but who I'd first noticed as far back as 2011 when he was just 16 and appeared in Yam Laranas' The Road. As with his co-star in the same film Alden Richards, I thought Derrick had a future in the business as he was a fairly good actor for his age.
Fast forward to 2016, and while Derrick hasn't quite yet reached the unexpected celebrity that Alden gained because of last year's AlDub phenomenon, the former has been gaining more and more popularity as well.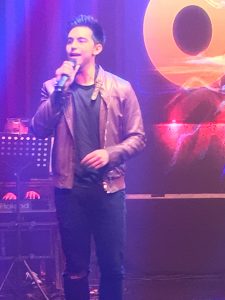 And finally seeing Derrick live, I can see why.
Derrick is a true triple threat, a rarity in local show business. Now, almost all young celebs here are asked to act, dance, and sing to an extent because the market almost always expects it and the business likes to earn from cross-media opportunities. Still, some of these celebs doing all three are just average (if at all) in one or more of these talents.
Not with Derrick. In his case, he can truly act, dance, and sing. And by "sing" – I don't just mean the "singing" that seems to be expected of all local celebrities regardless of their actual singing capabilities. You know, the type that gets artists recording deals despite their lack of talent thereof.
No, Derrick can actually sing.
He did an opera number during the concert, and who among the current crop of young local matinee idols would actually dare to sing Puccini? Only Derrick, as far as I know, and he did it well. Apparently, he used to sing in choirs, and if I also heard correctly, he's trained (maybe even classically trained).
Watch for yourself.
Now, while Derrick isn't perfect yet, that is a mighty fine rendition of Nessun dorma, which is an aria from Puccini's opera Turandot. For a person to choose this as his second of two solo numbers in a mainstream concert is pretty daring, but Derrick has the confidence and actual talent to back it up.
Why this man is still not front and center in more projects is beyond me.
GMA, you have a gem here. Take care of him; he'll go places if you play your cards right. He's so good that he could actually stand on his own, with or without the formulaic love team partner. With the right management support and continuous projects, you may just have the next superstar in your hands.
And yes, I did just purchase his album on iTunes.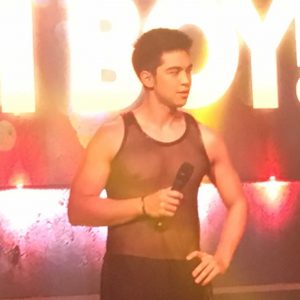 :
Derrick Monasterio