by allancarreon on Oct.02, 2017, under Music & Theater, Society
At some point in the staging of Ang Pag-Uusig, which is Jerry Respeto's translated adaptation of Arthur Miller's The Crucible, you will start to feel extremely uncomfortable at just how familiar everything was turning out to be. This, despite the fact that the play is set in 17th century Salem.
Yet this has always been the power of Miller's masterpiece. Even though it was, on the surface, a tale of the 1692 Salem witch trials, it ultimately was a cautionary tale of communities being broken apart by paranoia and an authoritarian socio-political climate that allows bubbling hostilities to rise to the surface and bring out the worst in people.
While Miller wrote the play in the 50s as a condemnation of McCarthyism, its power has remained relevant in different parts of the globe across the decades. Miller has noted that it tended to be staged in Latin American countries either at the cusp of a dictatorship, as a warning of what is to come, or else just after one has been removed – as a reminder.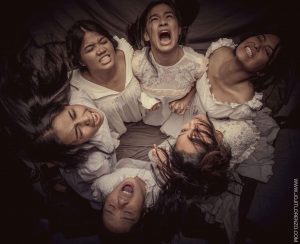 It is perhaps under this mindset that the creative team behind Tanghalang Pilipino's current run of the acclaimed play has chosen to bring this classic back for a new generation. In fact, during the Talk Back Q&A during Press Night last Saturday, Director Dennis Marasigan pretty much directly states this – that beyond just making a good and accessible play, this staging also seeks to open our eyes to the harsh and frightening realities that are fast unfolding in Filipino society right this very moment.
Ang Pag-Uusig, then, is meant as a wake-up call to generations, both old and new, to be wary of socio-political forces that threaten to tear our nation apart, wherein false accusations and lies can result in witch-hunts that take the lives not just of the guilty but, more heartbreakingly, the innocent.
And it succeeds, for the power of the play elicits a feeling of disturbance, one that reminds us that something is just not right, no matter how much one tries to justify what is happening.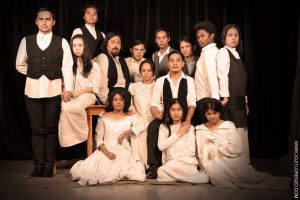 The power of the play allows us to see ourselves in these characters.
We might be a John Proctor or a Rebecca Nurse, who refuse to submit to the system's faulty premises.
We might be a Rev. Hale or a Rev. Parris, who try to justify the system until they realize too late that they had become instruments of evil.
We might be a Betty Parris or a Mercy Lewis, tools who blindly follow their de facto leader for no reason other than playing games or else simply being sheep.
Or worse, we might even be an Abigail Williams, whose personal and selfish agenda spirals out of control until she can no longer sustain her lies and flees like a coward.
The last time I watched any version of The Crucible was the 1996 movie starring Daniel Day-Lewis and Winona Ryder. I had forgotten just how heavy, tense, and harrowing this story truly was until I saw Ang Pag-Uusig. It is to the credit of the Tanghalang Pilipino's cast and crew that I was reminded of it once more, and in a very good way.
The entire cast deserves applause for their powerful performance. All of them come together onstage to bring their characters to life so effortlessly. Many of them have just come from the staging of Aurelio Sedisyoso, which finished its run a mere two weeks ago. For these cast members to easily shift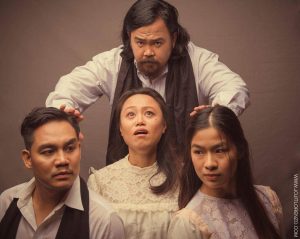 from the grand and fabulous production of Aurelio to the sedate, restrained, yet equally-powerful Ang Pag-Uusig in such a short time is a testament to their talents.
Three cast members deserve a special shout-out. First is the lead himself, JV Ibesate, who portrays John Proctor. This, of course, requires a presence who can own the stage when he is there, one who can fully realize the gravitas of the character, and JV does it with sufficient intensity. Then there is Doray Dayao, who portrays the dual roles of Elizabeth Proctor and Tituba, and she accomplishes both with nuance and sympathy; Elizabeth, in particular, is rendered as a complex being through Doray's subtle shifts in expression. Lastly is Antonette Go, whose Abigail Williams commands such presence on stage that one is both repulsed and awestruck at the antagonist; she makes you understand why the townsfolk believed her at all.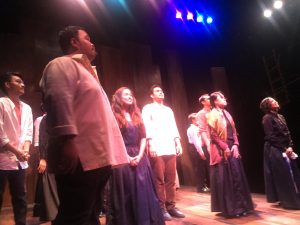 Direk Dennis Marasigan's over-all production is both minimal and deliberate. The staging and props are deceptively simple yet layered, allowing you to focus on the power of the characters and of the story. A four-act play as intense as The Crucible can potentially leave one lagging behind, but Direk Dennis' choices in blocking and movements allow the audience to sit at the edge of their seats and follow the story and the action much more closely.
Ang Pag-Uusig is a very timely and relevant play today. It will remind us of the importance of critical thinking, of rational thought, and of doing what is good and just as a means to counter any force of evil – no matter how benign or innocent a form it takes – that threatens to dismantle our society.
I highly recommend that you watch it, if only to be reminded of the truth.
---
Ang Pag-Uusig runs every weekend until 22 October 2017. It is by Tanghalang Pilipino and staged in CCP's Tanghalang Huseng Batute. Catch it while you can.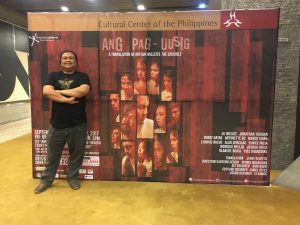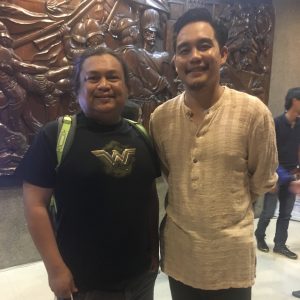 :Ang Pag-Uusig, Arthur Miller, Tanghalang Pilipino, The Crucible