by allancarreon on Sep.03, 2017, under Literature, Music & Theater, Society, Travel & Culture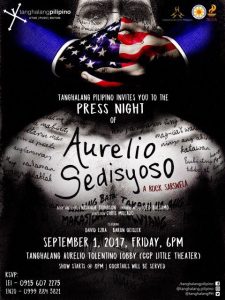 I never thought the children's song I Have Two Hands could ever be disturbing, but Aurelio Sedisyo: A Rock Sarswela – the latest musical from Tanghalang Pilipino – proved me wrong.
It tells the tale of playwright Aurelio Tolentino, who at the turn of the 20th century opposed the American regime in the Philippines through the mighty pen. He staged symbolic plays that condemned the colonizers as a way to continue the revolution after Emilio Aguinaldo's capture. Together with Macario Sakay and Dominador Gomez, Tolentino was part of a triumvirate of resistance from different fronts: soldiers (Sakay), laborers (Gomez), and artists (Tolentino). Along the way, he befriends Manuel Quezon, an aspiring lawyer who believes freedom will come through political maneuvering into government, an idea that appalls Tolentino. Interspersed with the story of his cause is the story of his family, of how familial loyalties and love are tested in the midst of trials and tribulation.
The musical follows Tolentino as he encounters love, suffering, betrayal, joys, loss. Across time, he encounters Tikbalang, a personification of the regime that takes various forms as the story progresses: a judge, a principal, a politician, and more. Even when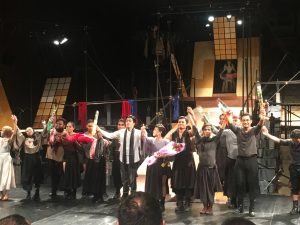 his cause seems futile as the world around him moves on, Aurelio stands firm on his principles to never succumb to the regime, be it in spirit, body, or even in language.
Aurelio Sedisyoso: A Rock Sarswela lives up to its name in more ways than one.
Like its protagonist, it is deliciously seditious. It is a play that is, in fact, about sedition – or at least as the colonizers viewed it. In the view of the oppressed, it is about freedom. And while this was set in the early American period, its lessons and experiences resonate through to the present, both politically and socially. It reminds us that artists – actors, writers, musicians, dancers, and more – have always been at the forefront of opposing regimes and their propagandists. It reminds us that it is not just the soldiers who die for the cause but that the blood of those who use art as a weapon in tearing down abusive authority stains our history.
There is a subversiveness to the entire production, not just in its story but also in various other aspects. It flips the expected by having the audience sit on the stage while the performance is set up where the audience seats are located. It adapts anachronisms in its music and costumes and dance, where a mash-up of the modern and the historical come together in a pseudo-steampunk world. There is even a subtle gender subversiveness to it when it did not cast a cis woman in the role of Aurelio's daughter, Crising. Beneath the energy of the songs and dance is an ominous undercurrent of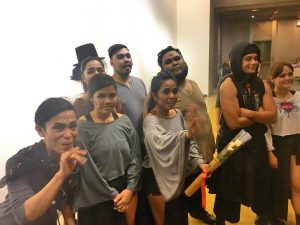 melancholy and distress, an undercurrent that subtly reminds us that "benevolent assimilation" and "manifest destiny" were never as benign as our ancestors were led to believe.
Nicanor Tiongson's words and Joed Balsamo's music, combined with Denisa Reyes' choreography and James Reyes' costumes, all work together in making sure this subversion works. Toym Imao's set pieces become a familiar yet unfamiliar world, one that makes you feel at home and yet makes you feel something is not quite right, much like a motherland that has been overtaken by something utterly alien. The artistry is a powerful reflection of the story itself.
Continued In:
---
Meanwhile, I was able to chat with some of the cast members after the show.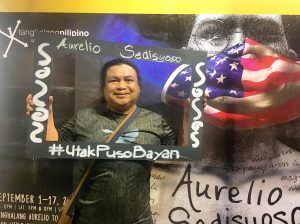 :Aurelio Sedisyoso, musical theater, Tanghalang Pilipino