by allancarreon on Feb.16, 2019, under Snark, Society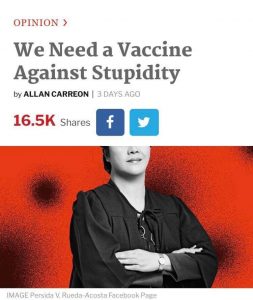 Nowadays, approximately 95% of the time, I avoid the comments section (and consequently, the engagement info) of politically-charged articles because I value my health. The amount of toxic idiocy on Facebook public "areas," in particular, is astounding. More so when it comes to political articles I write, I try not to look at the comments lest I engage and then get the urge to bludgeon the nearest available moron.
A recent article I wrote for Esquire apparently got about 16.5K shares as of this writing (one of my folks at work sent me a message about it). Not bad. It did kind of pull me in a bit to check what sort of engagement it was getting. Surprisingly, most were positive and agreed with my piece, although as expected there were a few morons here and there.
And morons they are, not because they disagree with the piece (it's an opinion piece, so if you weild intelligent discourse to debate against it, then well and good), but because these IQ-less people absolutely missed the point.
The article was never really Dengvaxia, though it played an important element in what I spoke of. In fact, I even pointed out that Dengvaxia was investigated by WHO (it would be more technically correct to say "the WHO," but that sounds like a rock band or else a blind item waiting to happen, and I digress.)
Ultimately, the article was about politicizing public health for one's own personal ambition. It was about a woman who despite not having any medical credentials ignored the expertise of unbiased third party doctors from UP PGH just to say she was trying to get justice for the people. It was about a woman who had followers print out t-shirts and banners as part of her "crusade." It was a woman who endangered public safety because fear-mongering would help elevate her public visibility.
No, not about Dengvaxia but about the monstrosity of political ambition.
But can we really expect comprehension and critical thinking from these people? The fact that I felt the need to write this post to further explain what was pretty clear definitely validates the article: we do need a vaccine against stupidity during this era.
:politics, social media, socio-politics, writing