Tag: #InSun
by allancarreon on May.21, 2021, under Film & TV, Geeky, My Life, Queer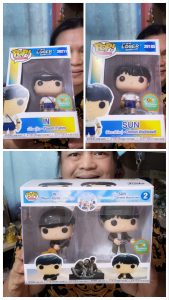 It's such great timing! The customized Funko Pops that I had made for In and Sun, two of my favorite Thai BL characters, were delivered just a few days before the 24th birthday of Pluem Purim.
Pluem, of course, played the character of In in My Dear Loser: Edge of 17, while Chimon Wachirawit played Sun opposite him. The characters did small cameos in My Dear Loser: Happy Ever After before fully reprising the roles (and tying loose ends) in the second episode of the Our Skyy anthology, Our Skyy: #InSun.
There have been so much merchandise for other GMMTV properties, so it's always been a frustration of mine that these two underrated characters have not been given much attention. Now, I had learned about a Funko customizer last year whom I commissioned to create customized Funko Pops of me and my friends. So this year, I decided to again commission from Oda Exclusive Custom Pops: In and Sun funkos!
Comments Off

on #InSun: Funk It Up
:#InSun, BL, Chimon, Chimon Wachirawit, GMMTV, My Dear Loser, Our Skyy, Pluem, Pluem Purim, Thai, Thailand
more...