Tag: The Kambal
by allancarreon on Jun.18, 2021, under Film & TV, Geeky, Literature
* Not Spoiler-Free *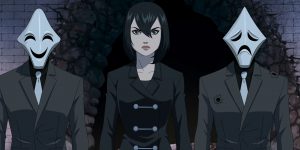 Last week, Netflix released its anime adaptation of the critically-acclaimed Filipino comics Trese (Budjette Tan / Kajo Baldisimo). It received much attention as the first Netflix adaptation of a Filipino property, and the road leading to the release was one of anticipation supported by a very creative, well-received PR campaign.
As a long-time Trese fan who has been following the comics for over a decade, I too was super stoked to finally see it come to the screen after 16 years since it was first published. Although a live action version would have been preferable, an anime version was also very much welcome. So upon release, I binged the 6-episode series – first with the Filipino dub, then with the English dub. It's an easy binge, really – totaling about 3 hours (like I said, one LOTR Extended Edition film was longer).
Comments Off

on Netflix's Trese: Neither Here Noir There
:Alexandra Trese, anime, Basilio, comics, Crispin, Filipino, folklore, mythology, Netflix, Pinoy, The Kambal, Trese
more...