Tag: Markus Paterson
by allancarreon on Oct.13, 2018, under Film & TV, Queer, Society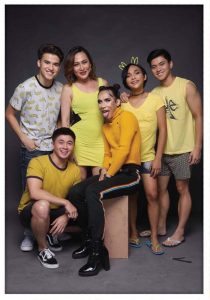 Mamu; And A Mother, Too may seem, on the surface, just another film about the lives of transwomen, one that could either be too inappropriately comedic or else much too maudlin and schmaltzy.
And yet, it carefully avoids these while still retaining humor and heart.
The titular Mamu is a veteran transwoman sex worker living with her long-time partner, Vincent. Due to her estranged sister's death, Mamu ends up taking her teenaged niece – Bona, who is also trans – into their home. Amidst poverty and growing walls between her and Vincent, Mamu struggles to adjust to having an adopted daughter who is as strong-willed as she is but who is perhaps not yet as street smart. It is the comparison and contrast between Mamu and Bona that drives much of the film, and the question of the repeating cycles of life and the possibility (or impossibility) of breaking those cycles becomes increasingly critical.
Comments Off

on Maganda Ba? True!
:Arron Villaflor, cinema, Cinema One Originals, EJ Jallorina, film, Iyah Mina, Jovani Manansala, Mamu, Markus Paterson
more...