Tag: Babaylanes
by allancarreon on Nov.29, 2017, under Queer, Society
Recently, the PDEA and media seriously mishandled a drug bust operation that crossed serious ethical lines when it comes to people living with HIV and how they are treated.
Below is the joint statement of UP Babaylan and its alumni organization, Babaylanes Inc., of which I am a part of, regarding this issue. It is unaccaptable to propagate stigma and homophobia in this manner, and the PDEA and the media outfits involved need to take accountability.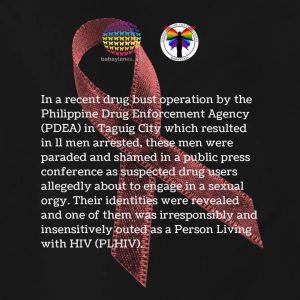 Leave a Comment
:Babaylanes, HIV, homophobia, UP Babaylan
more...
by allancarreon on Jun.25, 2017, under My Life, Queer, Society, Travel & Culture
Yesterday was Metro Manila's Pride March 2017.
The LGBT community converged in Marikina's Plaza De Los Alcaldes, where the fabulous organizers of this year's event had prepared a great pre-march program – which included an appearance by one of our strongest allies, Senator Risa Hontiveros.
Then, underneath the afternoon post-summer heat, we marched and held aloft our pride for who we are and held aloft our resolve to fight for what we believe in: fundamental equal rights for all.
Let the beauty of solidarity, togetherness, and sense of community that we captured through our cameras speak for itself.
This is Us.
This is Pride.
Leave a Comment
:Babaylanes, Metro Manila Pride, Pride, Pride 2017, Pride March, UP Babaylan
more...
Welcome to my mind...

... enjoy your stay!

Search