by allancarreon on Dec.30, 2017, under My Life, Queer, Society, Travel & Culture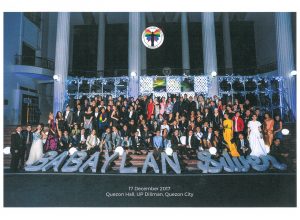 The beauty of silver shone through UP Babaylan as it celebrated its 25th year anniversary.
In 1992, a group of LGBT students from UP Diliman banded together as a response to a violent attack on a gay resident of the Narra dormitory hall. The organization, which sought to bring awareness and education to the larger community about LGBT advocacies, soon became one of the most active and relevant groups in the university. Not only was it the pioneer LGTB student organization in Asia, but it inspired and helped students from other schools form their own like-minded organizations across the nation.
A revolution had swept through our country's youth – a revolution that burns to the present.
Today, along with its offshoot NGO alumni association Babaylanes, Inc., UP Babaylan continues to lead the community in matters that pertain not just to LGBT rights but also to human rights as well. It is a rainbow beacon of hope that sheds light towards acceptance and self-determination. It is pride incarnate as we face adversity along the way.
And as we come to the end of 2017, we know that the fight lives on.
UP Babaylan stands tall as it rises up to the challenge.
Proud to be UP Babaylan. Proud to be Babaylanes.
We know that silver will forge on to become gold.
:Babaylanes, LGBT, UP Babaylan