by allancarreon on Feb.25, 2017, under Travel & Culture
Continued From:
Stories From Around The World, Part 1
During our first day in Mandalay, we decided to join the hostel-organized mini-tour around town that would culminate in Mandalay Hill. Here I met several people who joined the tour.
First is Harry from Australia. He has angles to him that remind me of Liam Hemsworth. I recognized him from the plane we took from Kuala Lumpur to Yangon. He wasn't easy to forget because he was so tall that his head would almost hit the ceiling of the airplane; I am a hobbit beside him. While on the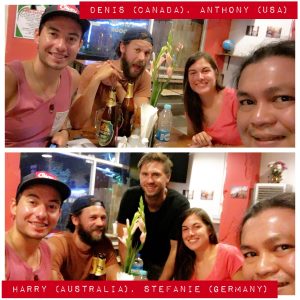 tour in Mandalay, we got to chatting, and it turned out he was traveling alone while on a 2-week holiday from work, where he's a mining advisor. He'd stayed in Yangon for several days before going to Mandalay and was planning to go to Hpisaw the next day.
He lives in Perth, and after I mentioned that I planned to visit two of my best friends who now live in Australia and make my way to Ayers Rock, he laughed as he himself hasn't been there yet. That said, I encouraged him to visit the Philippines next time. He's definitely a nice guy to know, and perhaps when I visit my friends France and Brian in Australia in the hopefully-near future, our paths may yet cross again.
On the same mini-tour, I met three more folks from various places: Denis from Canada, Anthony from the USA, and Stefanie from Germany. They were all delightful, and that night, I got to have a round of drinks with them when Bj went to bed earlier than I did.
Denis had to take a conference call, though, which reminded of how much I promised myself to avoid work distractions on vacation (one of my past mistakes). That said, he took the call on the rooftop, where the rest of us just drank our beers and ribbed him about his call. While he was on the call. Heh. Anthony, Stefanie, and I had wonderful conversations – ranging from travel, politics, racial and cultural issues, extremely cold weather, Justin Timberlake, and ohlord Justin Bieber.
Stefanie – who works in hospitality – had been to the Philippines before, and we had good laugh about Manila's traffic and the size of Mall of Asia. That said, she went on to see Donsol, Masbate, Oslob, Bohol, Dumaguete (which she loved), and Siquijor (I told her local folklore about that wonderful, enchanting island). She would be going to Bangkok after Myanmar, a couple of days after us, but it would be in transit (to Chiang Mai, I think).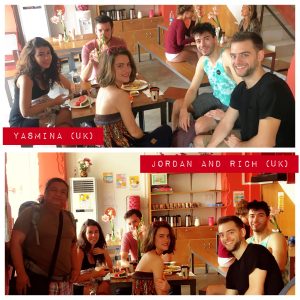 Anthony, meanwhile, talked about having lived in Colombia – Medellín, to be exact – and we shared tales of how much we loved that country, my side being about my time in Bogotá. I mentioned how my friends and I are planning to do some backpacking across South America in the future, especially through Peru and Argentina, and he gave tips. Anthony, like Denis, is also quite hilarious.
The British are coming! In the hostel cafe, I got to chatting with a couple of guys who were also joining us for that same mini-tour. Rich – who kind of looks like an older Chris Mears – and Jordan were from the United Kingdom. They were traveling with several other folks who would be joining us as well. I got to know one of them, Yasmina, while on the tour itself. I didn't get to know the others – one was a guy who'd largely been silent (though we saw him in Mandalay Airport the next day; I suppose he had a different itinerary) while the other was a lady who didn't join the tour and whom I only saw with them the next day before leaving. They seemed like a great bunch, especially Jordan, though we didn't to talking much after the tour as they did have their own circle.
Finally, I met Michael from Austria. He wasn't with us on the mini-tour, and I got into a good long chat with him while he was having dinner in the hostel. He's just nineteen years old, and he's been traveling alone since November; he still has a couple more months to go on the road, and man, I wish I could've done that when I was younger. He's able to do this as he takes a year off after graduating from school, and he's hoping to take up Psychology in the future.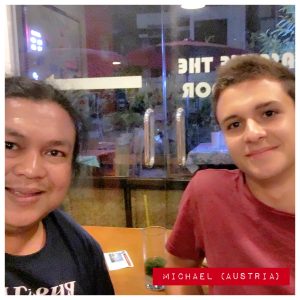 In this trip, he's been to South Africa, Australia, New Zealand (he hasn't seen The Lord of the Rings, and I gasped, haha), Indonesia, and a few other Asian countries. In Myanmar, after Mandalay, he was off to Bagan by boat (which sounds like fun), so I gave him some tips about Bagan. After Myanmar, in early March, he would be going to China (including Hong Kong and Macau) for several weeks before going home.
For someone so young, Michael is definitely a great conversationalist who could talk about some very introspective, insightful, and even profound things, and his interests are not the usual ones you'd expect from someone his age. He's not fond of theme parks (no Disneyland in Hong Kong), and he cancelled his Vietnam plans to stay longer in Myanmar just so he could do meditation.
We also had a lot of other things to talk about: shared interests, travel, our homes. He spoke of his hometown, Linz, and he was quite surprised I know about the place (it pays to be well-read, I said). We promised to show each other around when we go to each other's countries in the future. It's unfortunate he's not able to include the Philippines in his itinerary this time, but I encouraged him to come over. He's interested in diving spots, and I told him we have a lot: Tubbataha Reef, Apo Island, Puerto Galera, Anilao, and way more. I'll definitely bring him around our lovely country then.
All in all, meeting so many people from around the world while backpacking has been exciting and eye-opening. I told myself that the next time I travel, I'll do more of this community hostel thing. It's time to learn more about the world in a different way.
:
backpacking