by allancarreon on Feb.22, 2017, under Travel & Culture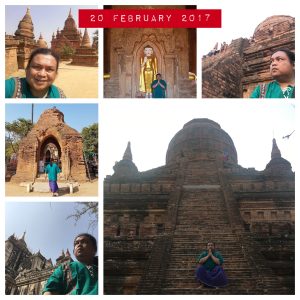 We woke up early on Monday morning to catch the sunrise of Old Bagan. We'd previously made arrangements for a ride to bring us to Shwe San Daw Pagoda. It was only MMK15,000.00 for the car, which is approximately around PHP552.00 or USD10.00. Since there were two of us, it was even cheaper per head.
Two things to note: that was one heck of a steep climb (and in the dark, since we arrived pre-sunrise, obv), and the place was jampacked with tourists. If you were hoping to go there to pretend to be all peaceful and zen, don't count on it. That said, it shouldn't be a deterrent, and with a few well-placed angles of your camera and/or selfie stick, you can give the illusion that you have the place all to yourself. Just don't fall off any damned ledge, and you should be good. It's also nice to meet other backpackers from all over the world.
The sunrise was spectacular, as expected, and from that vantage point you can see the arid plains of Bagan dotted with hundreds of pagodas of varying sizes as far as the eye can see. It was made even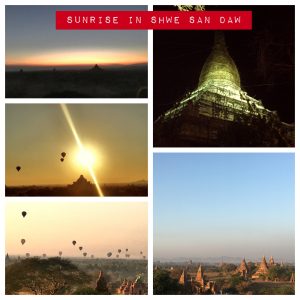 better when the famous hot-air balloons started floating from just beyond the horizon and drifted towards us. It felt surreal… in a good way.
We returned to the hostel at around 7:30AM to catch our free breakfast, took showers, then went on to our tour of Old Bagan. We booked a horse carriage for MMK25,000.00 (approx. PHP921.00 / USD18.00). When you consider it's a whole day package from 9AM to 7PM, one that includes getting you around from pagoda to pagoda, it's actually a steal. Our coach could also speak some English and was very nice.
There are over 2,000 pagodas across the plains of Bagan, and those are just the surviving ones. Apparently, there were over 10,000 at the height of the Kingdom of Pagan. So no, do not harbor the illusion that you can finish all of them even in a few days. Pick your battles. Up to now, I still have no idea why there were so many as sources vary and are inconclusive.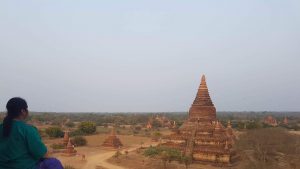 In any case, the horse carriage tour was absolutely worth it. We went to perhaps a dozen sites, each of which had multiple temples and pagodas. To be completely honest, at some point, they will start to look and feel alike, but it was all awesome, regardless. Certain more popular sites would have something new and different to offer, and those places also tend to have lots of vendors hawking souvenirs. I bought more than I planned, including a friggin' parasol that I just couldn't resist (the prior day, in Shwe Zi Gon, I bought a traditional puppet on strings).
It was also a lovely way to learn about the culture and heritage of this ancient city. Initially, I tried writing down the name of each site, but most of the time I couldn't pronounce it and some of them just
started to blend in my head. Across two days, we did see the major ones like Shwe Zi Gon, Shwe San Daw, Ananda Phaya, That Byin Nyu, Gaw Daw Palin Phaya, and Bupaya (where we witnessed Buddhists chanting in prayer and got a view of the majestic Ayeyarwady River).
Some things to consider when touring Bagan. One, it's very arid and dusty, so it may not be for those who can't stand that. Two, the full experience required a lot of walking and climbing pagodas. If you're averse to that, be warned. That said, you can always just look at the pagodas and temples from outside (and first level inside, if the structure allows it). Three, every single place requires you to remove your shoes and socks so you walk barefoot, and there are prohibitions in clothing (no shorts above the knees, no revealing tops, etc.).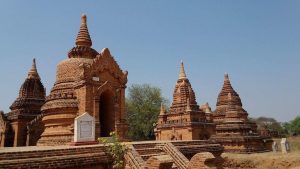 By the way, when you first enter the city, they will charge you MMK25,000.00 automatically (separate from the ride I noted above). They then give you a ticket that gives you access to the entire Bagan Archaeological Zone. You need to have that ticket with you at all times in case they ask for it, but it only got inspected once for me, and it's valid for 5 days.
At the end of the entire day, we were exhausted.
But you know what?
Yeah, we've only just Bagan.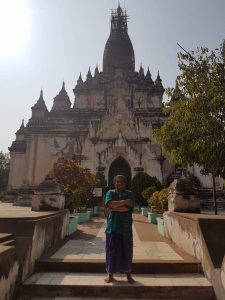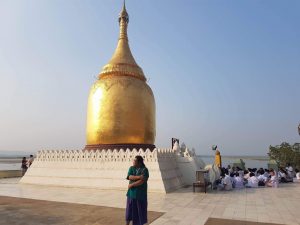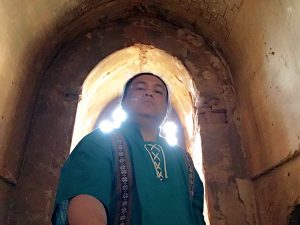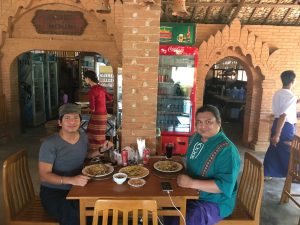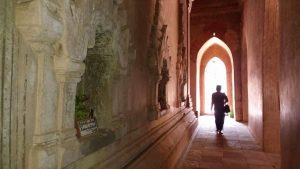 :Myanmar, New Bagan, Nyaung-U, Old Bagan