by allancarreon on Feb.20, 2017, under Travel & Culture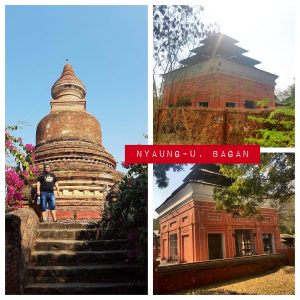 Continuing the travel tradition of "why can't we have nice things back home in Manila?" we boarded an express bus from Yangon to Bagan last Saturday night and found ourselves in a bus with better service and facilities than the local airlines we have in the Philippines (side-eye towards PAL, CebuPac, and AirAsia).
The JJ Express Bus we pre-booked online – JJ apparently standing for "Joyous Journey," because why not – was designed for optimal comfort and experience, as was preferred for a nine-hour trip. The reclining seats were large, with more legroom than most airlines' economy class, and there were only three passengers per row (2 + 1, aisle between). We had video entertainment available individually, and blankets, drinks, and snacks were also provided. We also had a stewardess and a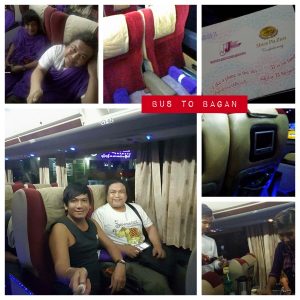 steward who functioned pretty much as our, umm, travel attendants. We had a couple of half-hour stopovers along the way, and we slept pretty soundly that the long trip didn't feel long. All in all, a pleasant experience.
We arrived at our destination on Sunday at 5:00AM sharp – timeliness in public transportation being another thing that's woefully short back home. Although Old Bagan is our ultimate target, we actually checked into a guesthouse in Nyaung-U, a small and quaint town about 4km northeast of our goal.
The area – which is part of the larger Mandalay region – actually has three small towns or cities: Old Bagan, former residential city turned tourist heaven and now home of the Bagan Archaeological Zone; Nyaung-U, where we decided to stay and where most backpackers prefer to go; New Bagan, southhwet of the old where residents of the old city had been moved to and where there were also a lot of backpackers, albeit apparently a quieter place to be.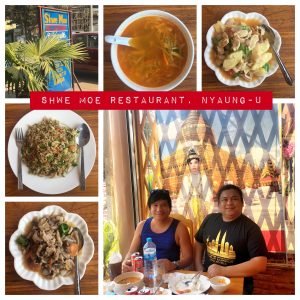 Of course, we had to be where more of the action was, so we chose Nyaung-U as our base for the next few days.
Upon the recommendation of one of Bj's travel buddies, we reserved a twin room in Large Golden Pot Guesthouse, and for the low price we paid, it was big, clean, and full of amenities we wouldn't usually find in backpacker accommodations. We even had a fridge. Heck, we had at least six power outlets, and in this day and age, it was nirvana to have so many sockets now for our multiple devices to charge simultaneously.
We had arrived very early – a little after 5AM – and though check-in time was 2PM, they managed to get us checked-in early by 830AM after cleaning an available, recently-vacated room. We took a few hours nap, then headed out for lunch. TripAdvisor is always helpful, and we found a nice, highly-praised place called Shwe Moe Restaurant that has very good food at affordable prices.
In the afternoon, deciding that we would reserve the full Old Bagan experience to Monday, we made our way to the nearby Shwezigon Pagoda – also known as Shwe Zi Gon Paya. Construction of this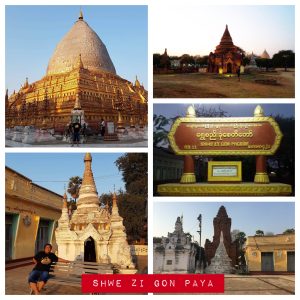 Buddhist temple in Nyaung-U, started circa 1059-1060 during the reign of King Anawrahta. It was completed over four decades later in 1102 during the reign of his son, King Kyansittha. The main gold-plated stupa, surrounded by smaller shrines, is said to house a bone and tooth of Gautama Buddha himself.
The place is awesome, with the "ancientness" of the complex being an inexplicable spirit you feel as you walk around. It also had less tourists compared to Yangon's Shwedagon Pagoda, and most of the visitors were locals coming to meditate, pray, or offer incense. The unfortunate thing is that it's not that well-maintained – and considering you go in barefoot as well, prepare to be all dusty and such. We still had a great time, though.
We headed off for dinner at Nanda Restaurant and Puppet Show, which I also read about in TripAdvisor, but it was fully packed and one needed a reservation. We decided to reserve for Monday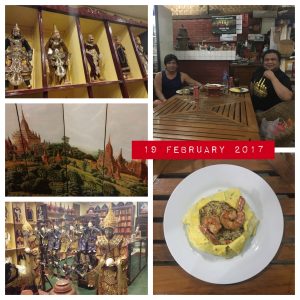 night instead then made our way across the street to Bagan Beach Restaurant. Another good and inexpensive find! Yes, we love to eat, in case that weren't obvious.
One thing I must warn you: getting around won't be too easy unless you know how to ride a bicycle or drive an e-bike, which are plentiful and for rent at very cheap prices. Other options are pretty expensive (except when you hire them for whole day tours), such as horse/carriage and the occasional taxi. As far as I can tell, there aren't really any other public transportation options within Bagan that can get you from one point to another across Nyaung-U, Old Bagan, and New Bagan (buses seem to only take you in and out of the city).
As I don't know how to ride a bike or an e-bike (despite hanging onto my dad or brother on their motorcycles way back), it was a lot of walking – which isn't so bad, if a bit time-consuming. That said, we booked whole day rides to tour us around Old Bagan for the next day.
All in all, not a bad 24 hours for our first foray into this ancient region.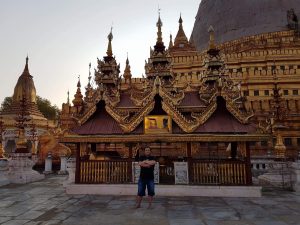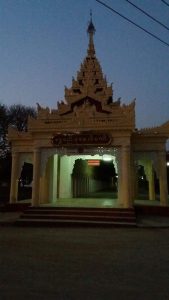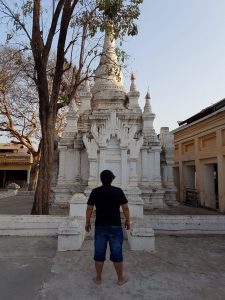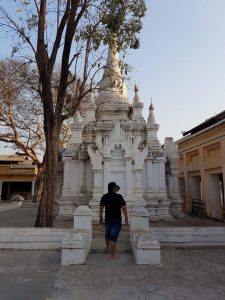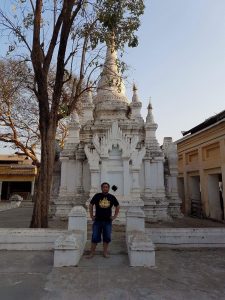 :Bagan, Myanmar, Nyaung-U, Yangon