by allancarreon on Feb.23, 2017, under Travel & Culture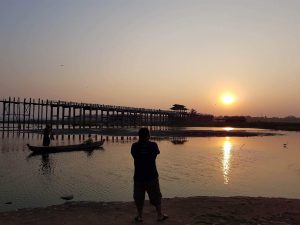 After spending a couple of days in Bagan, we finally packed our bags and went to the last leg of our Myanmar trip: Mandalay.
We left Bagan on Tuesday morning, and we took a 5-hour bus trip.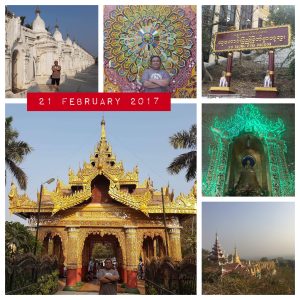 Now, it wasn't as fancy as the JJ Express we took from Yangon to Bagan, but it still seemed to fly by so fast. For lunch had a stopover somewhere I don't really know (Myotha, as per Facebook location, but who knows if that's accurate), and we had some really cheap but tasty. We ordered beef and rice, but we were surprised to find out it came with a host of side dishes that were pretty good.
We arrived in Mandalay around 2PM. Another surprise: the bus dropped all of us directly at our respective hotels – we didn't realize until then that this was why they had asked for our hotel information. It was like the school bus, except for backpackers and a few locals. Plus a monk.
We stayed in Ostello Bello, a hostel chain with houses here in Myanmar as well as in Italy. I assume it's an Italian chain based on the name and the overall feel, and there were a lot of backpackers from all over the world. It has more of a community feel than the places we booked in Yangon and Bagan.
That same afternoon, we joined other backpackers staying in the hostel on a mini-tour of Mandalay, which included going to a couple more pagodas before ending up in the big one atop Mandalay Hill –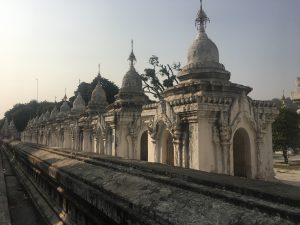 Su Taung Pyai. From that highest point in Mandalay, we could see the sprawling city before us as we waited for the sunset. I'll be frank: the view was great and the sunset okay, but it wasn't as spectacular as others such as several places in the Philippines or even in Bagan. Primarily, it was likely due to the apparent smog that blanketed the city – which obscures the perfect sunset. That said, the trip up the hill was still great as it was a beautiful structure.
The following morning, Wednesday, Bj and I made arrangements for a couple of motorbike drivers recommended by the hostel to take us to see the sunrise at U Pein Bridge, though along the way we stopped by the to view the Mandalay Palace, the last royal palace of the Burmese monarchy. In the pre-dawn darkness, lit by golden light, the palace looked even more grand. From there, we could also see Mandalay Hill from afar, beautiful as well.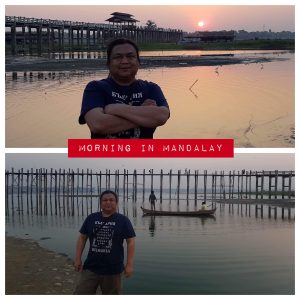 We arrived in U Pein Bridge just in time for the sunrise. And this one? Well, the underwhelming feeling we got from the prior day's sunset was completely negated by how beautiful the sunrise was. It was perfect, so perfect that it looked like the flag of Japan against the slowly-brightening sky.
U Pein Bridge (also spelled U Bein) is technically in the town of Amarapura, which took us about 30 minutes by motorbike from the hostel. U Pein is said to be the oldest and longest teakwood bridge in the world. It was built around 1850, is 1.2km long, and crosses the Taungthaman Lake. We were lucky there weren't that many tourists when we went, and we were able to truly take in that sunrise.
After spending time at the bridge, we went back to Ostello Bello, had a quick breakfast, packed, then made our way to Mandalay International Airport to head off to Bangkok.
Those six days in Myanmar weren't enough, it feels. Apparently, there are so many other places to explore – including Hpisaw, Inle Lake, and more. I think definitely I'll find my way back to this glorious Golden Land of Burma.
ကျေးဇူးတင်ပါတယ်, Myanmar!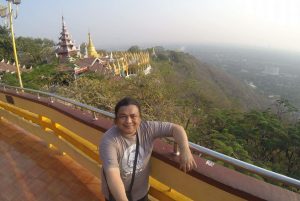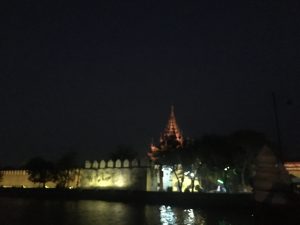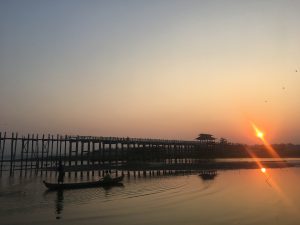 :Mandalay, Mandalay Hill, Myanmar, Ostello Bello, U Pein Bridge