by allancarreon on Nov.20, 2016, under Travel & Culture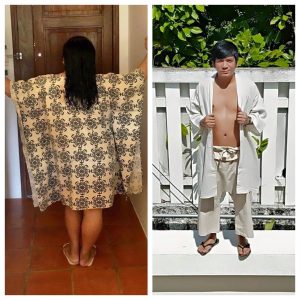 My final day in Thailand for this vacation was last Monday. Time definitely went by way too fast when one is enjoying himself way too much. You just want to chill forever. Alas, reality check!
Monday morning was spent relaxing in our Hua Hin resort. We had a hearty breakfast at Putahracsa's Sala Monsoon restaurant, then we took a few more pictures of the resort. We also tried on the traditional Thai outfits they had for us just lying around in our closet (mudrang-mudra lang ang peg ko, gahd), then afterwards we packed our belongings and checked out.
As always, the staff was very hospitable, they gave us farewell refreshments, and we vowed to return. They had the resort tuk tuk service (which was free going out of the resort, at least for us) bring us to the terminal. I was pretty bummed that we had to go so soon.
By lunch time, we were on a mini-bus back to Bangkok. We didn't take the train because of the schedules (we would potentially miss our midnight flight back to Manila if we chose one of the remaining train schedules), so we opted for the mini-bus. Which really wasn't so much a mini-bus as it was a large van typical of our UV Express rides, only slightly larger. It was also much faster than the somewhat more relaxed train, even if it had less character.
Back in Bangkok, we had only a few hours left before we needed to leave for the airport. It was true what my friend said: Bangkok traffic gets pretty bad during rush hour. Nowhere near Manila-bad (that's in a league of its own), but still pretty crazy.
We did manage to squeeze in dinner with Patrick, one of my friends from Jessica's writing workshop and who has been based in Thailand for two years now. My bestie Beij, who has been to Thailand 21 times and has quite an online following as Pinoy Travel Whore, was glad to meet someone new in Bangkok as a local contact for future trips. Pat, in turn, was glad to have met another Mariah Carey uber-fan (lambs, they call themselves), and they instantly bonded over Mariah concerts and Mariah shirts that Beij will be bringing over the next time he's in town.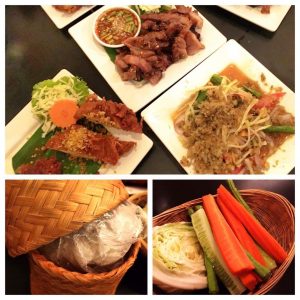 Pat brought us to Somtum Der. Located in Sala Daeng, a street connecting Si Lom and Sathorn, it is a gem right in the heart of Bangkok. The place is packed with customers, and while quite modern, it retains a very traditional aura.
This homey restaurant features Thai-Isan food. Isan is the north-eastern region of Thailand that has a strong Lao influence. In fact, majority of the population speak Lao, and many prefer to distinguish themselves from both Lao and central Thai people. This gives their culture a unique character that has also influenced their cuisine.
The specialty of Somtum Der is Som Tam (papaya salad, which we saw being prepared by the diva from Chatuchak), and there are over a dozen varieties. I chose the one with the catfish flakes because I've always loved Thai catfish salad – though most of the time I've had that with green mangoes. I also ordered some delicious fried chicken and grilled pork. It was fortunate that they ran out of steamed rice we initially ordered. They offered us sticky rice instead; not only was it delicious with everything else we were eating, but it turns out – upon later research – that sticky rice is what Thai Isans generally eat as a staple food, thus making the experience more authentic.
Post dinner was a bit of a mad rush, as we didn't want to get caught in evening traffic, particularly since it was also the Festival of Loi Krathong. This annual lunar-based Tai festival, wherein numerous krathongs (decorated bouyant baskets) are released to float upon waterways such as rivers, is celebrated by Thai Buddhists to honor the Buddha as well as by Hindus to thank the Hindu water goddess Ganga. It was too bad that we had our flight on the same night because it would have been nice to join the festivities and see all those lit krathongs floating down and illuminating the rivers of Bangkok.
Despite the possibility of this year's festival being a bit more serene than usual due to the mourning period for the King, it was better not to take chances as we might miss our red-eye flight, so we skipped any festivity. Thank goodness there wasn't much traffic going to the airport, but we did run into the worst check-in line at the baggage drop. Nonetheless, we had more than enough time.
Over-all, this second visit to Thailand was well worth the eleven year wait. As I told Patrick, I wouldn't mind moving to Bangkok at all – the culture is close enough to Filipino life, and the people are just as wonderful.
I cannot wait to go back, hopefully next year. There are lots and lots of other cities, towns, and beaches to explore, after all. And of course, I need to meet Mario Maurer and Ananda Everingham so they can finally fall madly in love with me.
Until we meet again, Thailand! Thanks for the awesome time.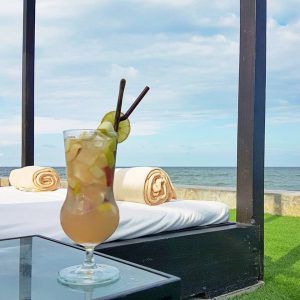 :Bangkok, food trip, Hua Hin, Loi Krathong, Somtum Der, Thai-Isan, Thailand