by allancarreon on Nov.15, 2016, under Queer, Travel & Culture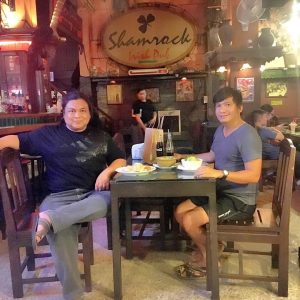 I've always loved Thai cuisine, but I've never really tasted authentic samples as all I've eaten had been in the Philippines. The last time I was in Bangkok, which was a mere one-night transit stay in 2005, I ate at the mall food court lunch, then at a McDonald's for dinner, then in the hotel for breakfast the next day.
Thus, I owed it to myself to eat lots of Thai food this time. Well, you bet I did!
After having delicious street Pad Thai on Friday night, I had a feeling Saturday would be a treat, and it certainly was.
We spent Saturday morning and early afternoon shopping in the famed Chatuchak Market, where prices are so low that we managed to finish most of our Christmas shopping already. We had both lunch as well as afternoon snacks in the bazaar; trust me, all that walking around will work up your appetite.
The thing with Thai food is that, for the most part, you won't get too concerned eating food sold in street stalls or in cheap market eateries. We had lunch in a small carinderia-style place inside the complex, and at first we thought the prices were not as inexpensive as the food we had in Surawong. Lo and behold! The generous servings of utter deliciousness were enough to choke a horse.
Our afternoon snacks – which, when you consider we ate Tom Yum Goong and Pad Thai, were basically a second lunch – were bought from this other carinderia-style eatery that we'd heard about.
This magical place, we heard, has topless male servers wearing skimpy traditional Thai costumes and golden faux-jewelry. We even got ahold of a picture of these adonises from someone who has been to this tantalizing feast.
Just. Look. At. That.
That would be #dininggoals.
Remembering this goal made us even more famished, and that was enough for us to be resilient as we searched Chatuchak for this paradise.
I mean, wouldn't you be enticed to eat with these boys giving you… service?
Having found the place, we didn't see most of the guys from that picture that group picture though, yes, the servers present were all wearing that. Employee turn-over, I guess. They did have one guy we found really, really hot and another one whom I wouldn't kick out of bed. Exhibit A to the left.
Now, while I had a craving for Tom Yum and ordered that (and it was heavenly), the actual specialty of the place is Som Tam (Spicy Papaya Salad). The funny and flamboyant owner of the place prepared the salad while singing and dancing. You just almost want to be his friend.
For dinner, we took a boat ride to cruise the river on the way to Khao San Road, an area where backpackers converge due to cheap accommodations and a lively night scene full of food and fun. Here, in one of the restaurants, we feasted on another Thai-licious meal that had us needing to loosen our belts. And maybe even pants. The prices were not as cheap as Surawong streets or Chatuchak, but over-all it was still worth it. Sulit na sulit.
Much later in the night, in the Surawong area and after having explored more of the district's rather interesting choices for entertainment, we walked back to our hotel and stopped by to grab cheap and delicious refreshments by the street. A guy was selling a wide array of drinks from a stall – fruits, coffee, et cetera. It reminds me of iskrambol stalls back in Manila, except this one was much more modern (and quite possibly cleaner).
My bestie had iced coffee, but I chose a kiwi slushie – I love kiwis, and they're a bit expensive in Manila, but right here in the streets of Bangkok, I got a tall order for only 30 freaking baht.
Not bad for a Saturday in Bangkok.
:Bangkok, food trip