by allancarreon on Nov.17, 2016, under Travel & Culture

Last Sunday morning, we decided to travel to Hua Hin, a beach resort town about three and a half hours south of Bangkok by express train.
We were supposed to go by bus early in the morning but decided to try the train – which was a good choice. After our pleasant river mini-cruise to Khao San the previous night, seeing that a classic train – old but efficient – would bring us to another part of the country was just exciting.
I'm really amazed at the excellent transportation system of this country: effective railway systems as well as the use of its riverways. I cannot for the life of me understand why my country can't clean up and maximize the Pasig River, for one, and expand our train system to be as organized as many of our neighbors.
I digress.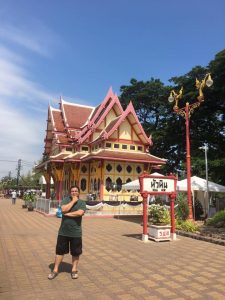 Hua Hin is a sleepy seaside resort town that has a lot of charm. Even as you arrive, the railway station exudes an old world, mid-20th century aura that almost brings you back in time.
There are apparently quite a few things one can do in town, but given our limited time, we spent most of it in our resort as well as the nearby night market. The beach isn't really conducive to swimming; the resorts in this area just offer a lovely view of the ocean – the Gulf of Thailand waters, to be exact – while you relax by the luxurious pools.
Our resort, in particular, is cozy and reasonably-priced for what it offers. Putahracsa Resort, currently number two on TripAdvisor for Hua Hin hotels, is relaxing, beautiful, and has some of the best customer service in the history of, like, ever. There are three main pools – one facing the ocean and two on the other side of the complex which is divided by a public street. As I understand it, the most expensive villas facing the ocean also have their own mini-pools, but as I do not shit diamond and gold, I was perfectly satisfied in our suite that was more than enough when it comes to comfort and style.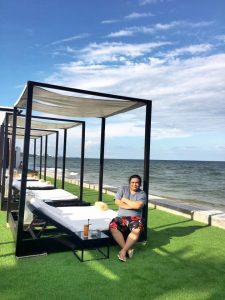 Putahracsa is also fairly close to most of the hustle bustle of the town center – we had lunch at a McDonald's about five minutes away by tuk tuk (hey, we also neeed to take a break from all that delicious Thai food), and close to it is a Burger King. We also saw a Starbucks as well as a Watson's. It was very modern and yet still so charmingly old world.
The only regret? Due to timing and flights, we could only stay in Hua Hin overnight before returning to Bangkok. There were still a lot of things left to be explored: several museums, temples, caves, and Khao Takiab – also know as Chopsticks Hill and Monkey Mountain, the latter being due to the ubiqituous monkeys roaming around.
In any case, we plan to go back to Thailand in the future and do a little beach-to-beach trip across one to two weeks.
I'll definitely be back, Hua Hin.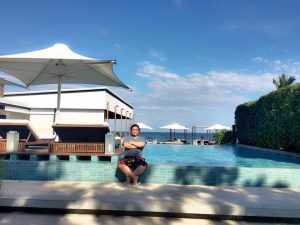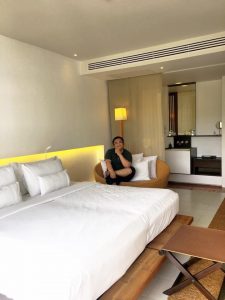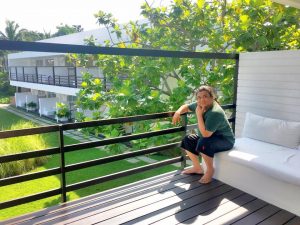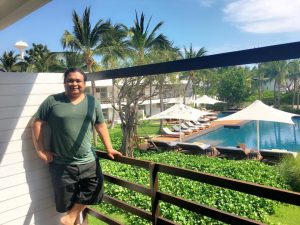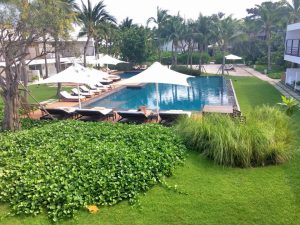 :beach, Hua Hin