by allancarreon on Jul.17, 2017, under My Life, Travel & Culture
We arrived in Labuan Bajo (on Flores Island, about an hour from Bali by plane) on Tuesday afternoon.
Flores is an island of the Lesser Sunda Archipelago and is close to the Komodo National Park, a UNESCO World Heritage island chain that is home to the famous Komodo dragon. Thus, Flores is a gateway for adventure-seeking tourists who wish to see the komodo and many other wonders of nature in the archipelago.
As we arrived already late in Labuan Bajo, we simply signed up for a Wednesday all-day joiner island hopping tour. This was through Kita Tours, one of the many tour organizers we encountered along the harbour. The price was extremely reasonable, especially compared to what was being offered back at the hotel.
Then we walked around and stumbled upon Mediterraneo Flores, where we had the best meal of the entire trip. Seriously, if ever you're in Labuan Bajo, you cannot miss this. Their Greek salad, chicken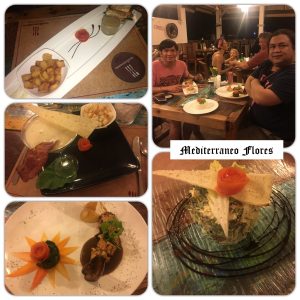 roulade, and roasted barracuda were all superb. I did find it unusual that the resto, like many others, served beef and pork; I chalked it up to being tourist-friendly until I later found out that Flores is Catholic-majority and hence had no real dietary restrictions.
On Wednesday morning, we got up before dawn and were in the harbour before 6AM for our whole day island hopping adventure. The great thing about joiner tours (aside from being significantly cheaper than private ones) is that you get to meet different people from all over. Our tour group had us (two Filipinos), two young Russian ladies named Eugenia and Anastasia, a beautiful Argentinian couple (Sandra and her partner, whose name we forgot to ask but looked like an older Josh Hartnett), a trio of French travellers (sisters Cecille and Alice along with their male friend Jona), an Indonesian solo backpacker, and an Indonesian family from Jakarta – a mother and her three rather ripped sons (we assumed). I love meeting people from around the globe.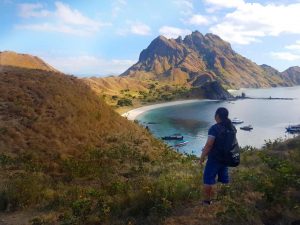 First stop: Pulau Padar. This is about three hours by boat from Labuan Bajo. Padar, like Komodo Island and Rinca (we didn't go to the latter), is part of the Komodo National Park. However, the komodo dragons are apparently now scarce in Padar, if at all. No matter: the trek up the hills to see the breathtaking views was worth it. Bring lots of water.
Next stop was the primary purpose of our Flores trip: Komodo Island! This is where guided trekking tours of the island are held, and it was absolutely amazing – if exhausting. We were there at noon and walked under the heat of the summer sun for an hour. The great thing was that our efforts were not wasted when we came upon a Komodo in the wild. Bring insect repellant, alcohol, and possibly Band Aid (for scratches – you basically walk through foliage and a bit of jungle).
We had lunch on the boat on the way to Pink Beach. Pink Beach looked just like that: pink especially approaching from the sea. Unfortunately, our tour group apparently didn't include actually docking on the beach for us to swim and sunbathe. We were off the coast along with other boats to do snorkeling, which Bj and I didn't do as the waters weren't really inviting (due to all the boats clustered together).
The last part of our trip was at Manta Point, right out at sea where manta rays typically congregated. Of course, it's never a guarantee – but I did get to see one! We also "parked" the boat for more snorkeling. This time, I went into the water to snorkel. Beautiful corals, clear waters – though I'll be biased and say we still have better waters and marine life in the Philippines. Our tour companion Sandra was lucky to see more mantas plus at least one shark.
After Manta Point, we made our way back to Labuan Bajo and docked after dark – around 7pm. We decided to eat dinner by the harbour in those local eateries that were dirt cheap but had tasty food. They called the area the Labuan Bajo Culinary Center (or such). Always try the local food that way. We weren't disappointed with more Nasi Goreng plus Cumi Bakar (Grilled Squid), with the squid fresh and tasty as heck. We went back to the hotel to rest (and experienced a fairly strong earthquake in the middle of the night).
On Thursday, we decided to just "stay in" at the hotel since our trip had been quite the whirlwind of activities since we arrived the prior Sunday. It was a good choice because we got to relax by the pool of the Bintang Flores (our hotel), which also had access to the beach. We ate dinner in town at Cit Ma Bon – a so-so Italian place. It was just more R&R at the hotel on Friday until we checked out at noon and headed for the airport to return to Bali for the last leg of our trip.
—
Komodo Tour Cost per Person:
1. Day Tour (Kita Tours): Rp400,000, inclusive of packed lunch, 1.5L bottle of water, as well as snorkeling gear. Itinerary: Padar, Komodo, Pink Beach, Manta Point. They also offer other tour packages across different spots, ranging from day tours to 4D/3N. Kita Tours is located close to the harbour gate, right near a shop selling Oppo and Samsung. Look for Sam.
2. Komodo National Park Entrance Fee: Rp250,000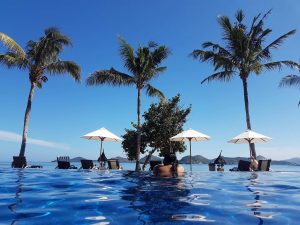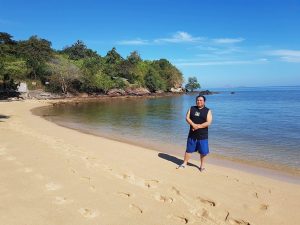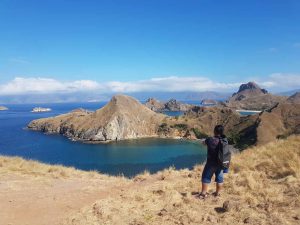 :Bintang Flores, Cit Ma Bon, Flores Island, Indonesia, komodo dragon, Komodo Island, Labuan Bajo, Manta Point, Mediterraneo Flores, Pink Beach, Pulau Padar