by allancarreon on Apr.30, 2017, under My Life, Queer, Society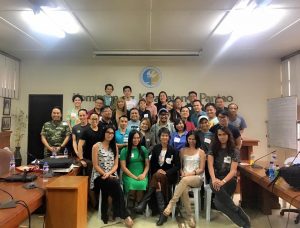 Yesterday, being a member of Babaylanes, Inc. (the alumni organization of UP Babaylan), I joined a meeting of various LGBT groups and allies. A number of these groups were part of the umbrella LGBT network Lagablab, including my two aforementioned orgs, although there were also plenty of representatives from non-Lagablab groups. There were also non-affiliated individuals. We all had one goal.
The meeting was held as a forum on what we as a community can further do to lobby support for the Anti-Discrimination Bill. As I'd previously noted, this important piece of legislation has been in congress for some time now, and the most recent version is the furthest the bill has made it so far. Of course, this being Philippine politics and all, interpellations kept on getting delayed and delayed until Congress went on hiatus in March.
Well, at last, Congress resumes this coming week, and we are hoping that the ADB finally moves forward. In the mini-forum held at the Commission on Human Rights yesterday, we discussed how we – both a various groups and individuals – could help further push to get this bill passed into law. There are many things that can be done, including stronger visibility in the mainstream, education and talks, solidarity events, and even as simple an activity as going to congress during interpellations to show strength in numbers.
If you wish to help or support the cause, just comment down below, and I'll make sure to connect you with the right folks.
Let's fight for our rights… because LGBT rights are human rights.
Hey, even the beautiful Harry Styles agrees with us. Equality should never really be political; it should be fundamental.
(Jump to the 11-minute mark onwards.)

:Anti-Discrimination Bill, LGBT, politics