by allancarreon on Apr.12, 2017, under My Life, Travel & Culture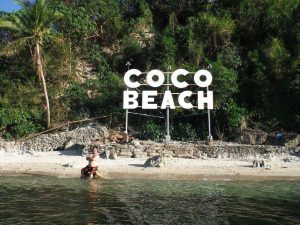 Continued From:
So today I continue with my thoughts on Coco Beach Resort in Puerto Galera. As I mentioned yesterday, the gang decided to have a quick overnight getaway in the midst of all this wretched summer heat, and Coco Beach was definitely a great place to choose since I'd been wanting to try it out for the longest time.
And yes, there are definitely a lot of good things about the resort and its beautiful surroundings, but then there are also… the bad and the ugly.
The Bad.
The beach is not really a swimming beach: rocky and "corally," with a lot of seaweed. The beachfront is also limited. So if you're expecting to swim in the sea, perhaps choose a different resort (or use this resort as a base and do beach-hopping, which they do offer). Else, enjoy the pools.
We hired a glass-bottom boat since I've always wanted to experience that. They were offering it comparatively cheap (Php250 per person, and from what I know this can cost a couple of thousand bucks elsewhere), so we grabbed the opportunity. Then we realized why it was so cheap. The glass floor of the boat was not well-maintained – you can still view sealife fairly well, but it wasn't as clear as you would expect. Plus, Bj thought we might as well have been viewing a coffin with the weird layout of the floor, glass, and borders. As for the glass itself, think old unmaintained aquariums where the glass is a little bit cloudy already, with a trace of a rust-colored hue. Couple these with the general area where we sailed – average "scenery, if you will, with nothing truly spectacular that would make you drop your jaw in amazement, and it wasn't really anything memorable.
Limited WiFi. Yes, yes, I know, for some this is actually a good thing. You know, "get away from it all." However, they still did have it, but only in the main restaurant – so why not expand it? Plus, the place also could generally not be reached by cell signals. I guess this really hit me hard when, after the earthquake, it was difficult to contact home to check how things were.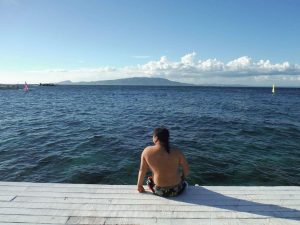 The Ugly. The restaurants. There are four restaurants; we ate in two. These were enough fails for me to categorize them under "Ugly" as opposed to just "Bad." I guess we'll never know if Trattoria or Doña Lina are in any way good, but Carabao will test your patience and Coco Grille is just supremely horrific.
Food.

The main one, Carabao Restaurant, is fairly ok with reasonable prices, but I was not happy with the limited choices for their breakfast buffet (I'm not a fan of chicken liver, for one). Also, Gilbert ordered gising-gising for lunch and was served with something like sizzling seafood with red sauce (and they confirmed that was their gising-gising when we asked). They did have a good cordon bleu.
The second restaurant, Coco Grille – which requires a good walk up the hill and which serves Asian cuisine – was just plain hideous. Other than the yummy grilled pork char siu, everything else was horrible. Their tom yum was most definitely not tom yum. I know tom yum and that was not tom yum; it was tasteless sotanghon soup. The fried rice was average, though Bj, Norlan, and André thought it tasted like used rags. Basahan, to be exact, making us wonder how they knew what rags tasted like. Meanwhile, Dan ordered egg drop soup that was astoundingly diluted. The Hua Hin Shrimp Salad was nothing I ever encountered when I was in Hua Hin, and the ingredients were pretty much what was in the pretend tom yum as well as what was in the seafood spring rolls. If ever there was only one time you can ever use the hashtag #neveragain, this place would be the only time to use it for.

Availability.

I'm also not happy that all the restos close at night. My take is they should keep at least one open because the resort is pretty isolated – no way to find food or drinks elsewhere other than hopping on a boat – and if anyone gets hungry in the middle of the night, it would be unpleasant.
At the very least, they should look at opening a small convenience store that's open 24 hours, 7 days a week. Besides, people love to drink until the wee hours of morning. Well, most very young people, anyway. We were in bed at a reasonable hour. Yes, I know, right?

Service.

The service in the restaurants is awful, especially in Carabao Restaurant. Considering this is the main dining place, getting orders seems like a taxing undertaking if not totally chaotic. For both lunches that we had there, our food arrived about an hour late – despite multiple follow-ups. I don't know if they only have one chef, but it was definitely obvious that they have a manpower issue in the kitchen. It was also pretty hard to get the attention of waiters at times, with at least 3-4 times of waving your hand furiously a necessity just to have someone finally see you. We were hungry, then we got hungrier, then way way hungrier, and of course that just made me irritable. Thankfully, my friends reined me in because otherwise empty plates and sharp metallic utensils may have flown across the room. Kidding. Sort of. As for Coco Grille, aside from the grotesque food, I had to wonder why they insisted that we make a reservation after implying the place was already fully-booked for dinner; when we went there, the place was empty save for a German couple who seemed astonished at the amount of food that kept coming our way (yes, a ton of food we spectacularly regretted).
All in all, we still did enjoy our quick overnight getaway. We were able to relax (despite the earthquake), had fun with friends, and watched some gorgeous blond boys and black-haired omelette station chefs. But would we come back? We'll see. Probably far into the future, when we hope they've fixed the problem with their restaurants.
I'd rate the over-all experience a 7 or 7.5. I'd say you can probably give it a try once and see how well you'll like it.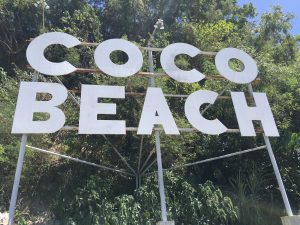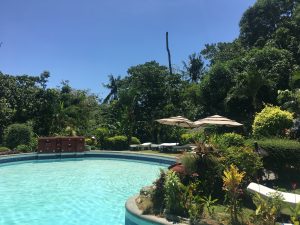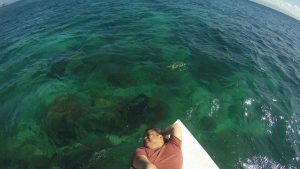 :Coco Beach, Puerto Galera