by allancarreon on Apr.11, 2017, under My Life, Travel & Culture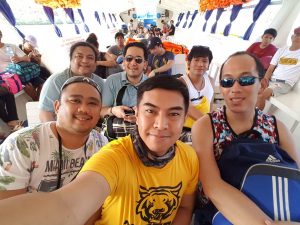 I'd been to Puerto Galera many times since the late 90s. In all those times, except for the first time which was a Sabang trip for my college Invertebrate Zoology class, I'd always gone to White Beach. Admittedly, White Beach probably isn't as nice and fun as it once was, but I still did return again and again.
This year, on a (relative) whim and in trying to find a quick summer getaway over the weekend, we decided for a good old reliable but with a twist: Puerto Galera, but on a different beach. Now, I've always wanted to try Coco Beach, so with no dissent from the gang, we booked it. Luckily, considering it was summer and we were going on the Saturday before Holy Week, there was still one room available that could accommodate the six of us, .
And so it was that Bj, Norlan, Andre, Gilbert, Dan and I made our way to Galera again after a long time of not going.
It was a fairly good decision, sans the earthquake of course.
Oh, yeah, we were there when the rather strong earthquake happened last April 8th. My friends were by the pool, while I was getting ready to join them after having taken a nap. I was on the second floor of our loft when I heard a frighteningly loud rumbling – and then I felt the place shake.
That said, the resort staff were admirable in how everything was handled. We were all calmly ushered into the relatively open area of the basketball court, situated in a clearing just a little off our suite, and we were regularly updated about what was happening until they deemed it safe for us to go about our usual business.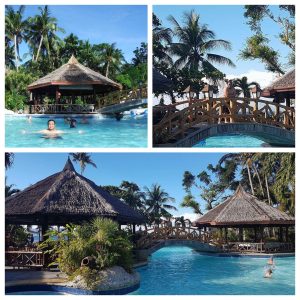 We did still feel some light aftershocks the rest of the trip, including Palm Sunday when we left. Loco, right? But we sure as heck weren't going to let that get in the way of rest and relaxation.
Now, Coco Beach has had a reputation for being a mid to upscale resort with good service and facilities. I've wanted to try it since the mid-2000s when other friends raved about it.
Is the reputation earned?
Well, let's look at the good, the bad, and the ugly.
The Good.
It manages to be very Filipino while catering to an international clientele. There were a lot of Europeans and some Americans, but there were also a lot of Pinoys. The overall feel of the place is very welcoming.
The architecture and facilities are really going for a very Pinoy atmosphere which I'm sure the foreigners appreciated. Our loft-type accommodation, good for six, was great. We stayed in one of the Heritage Suites. It was spacious, very ethnic (we were assigned the Mandaya suite), and cozy. It did feel a bit old (particularly the bathroom), although it was still generally clean.
The service, except for the restaurants, was great. Ate Arlyn was assigned to us, and she was very helpful, friendly, and enthusiastic (in a good way). The other resort staff were also generally friendly and helpful. At the Carabao Restaurant on Saturday night, the staff were very festive in entertaining buffet guests with fun and games.
The pools were good, if somewhat limited. There were only two. We swam in the main one. We weren't able to swim in the Silent Pool due to time constraints, but we managed to take pictures, and it's really lovely with a great view of the sea.
They offer a lot of activities. Some are free. Some are not. But regardless, this means you have a lot of choices when on vacation. They have a flyer that showed literally 101 things you can do. That's certainly a great thing; you won't get bored. I did wish I had more time as I wanted to try the spa, at least.
Continued In: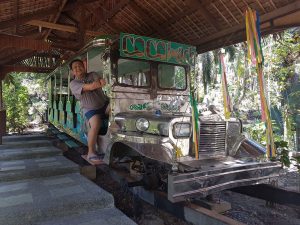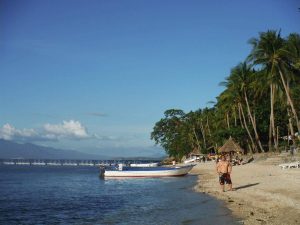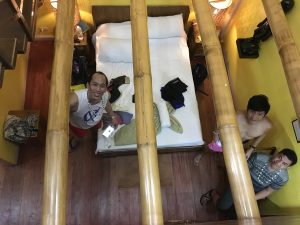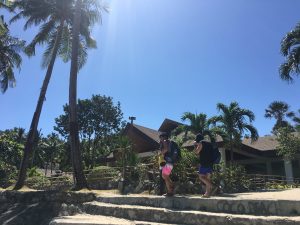 :Coco Beach, Puerto Galera