by allancarreon on Nov.19, 2016, under Travel & Culture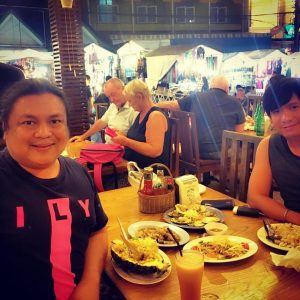 Of course, one cannot go to another city in Thailand without gorging on their food. Because Thai food is love, and when in Thailand: Eat. Pray. Love.
Thus, aside from relaxing by the beach, food was another target when we went to Hua Hin last Sunday and Monday.
I had to have lunch at McDonald's because it's my personal mission to eat at a McDonald's and visit a Starbucks in any new country I go to, assuming they have these stores. McDonald's, in particular, makes sure to customize its menu to cater to local tastes.
I was delighted that they had an interesting item on the menu: Spicy Namtok Burger, made from Kuro Bota pork. It's part of a line of specialty burgers ("The Signature Collection") which also includes an offering made from Angus Beef. I was sold on the Kuro Bota, so I ordered it with special add-ons you can chose from a list (for a price). Obviously, I needed to have mine with bacon, onions, cheese, and an extra patty. I also got a Spinach Pie on the side.
Being some kind of specialty burger apparently warranted being served not in the usual cardboard box reserved for Big Macs and Quarter Pounders. Instead, the huge-ass Spicy Namtok Burger was served on a small wooden chopping board, much like they do in some mid-priced burger joints.
It was interesting yet somewhat awkward, as I was right there in a fast food restaurant looking like I was eating something from Friday's. I also ended up asking for a plastic fork and knife.
They were not kidding when they said it was spicy. I have high tolerance for spicy, but this made me sweat like hell. I loved it! The Spinach Pie, not so much.
In the afternoon, we had cocktails by the pool bar of our hotel. Because what's a vacation without getting some alcohol by the pool, right?
For dinner, with McDonald's out of the way, we were back for more Thai food. We went to Hua Hin Night Market.
Thailand really loves its night markets, and Hua Hin was no exception. The street was lined up with dozens upon dozens of road-side food stalls hawking all sorts of freshly-cooked delicacies; restaurants and eateries offering very fresh seafood; and souvenir shops selling just about everything you would expect as a tourist – and at very cheap prices. Bangkok is already cheap, but Hua Hin – being a little bit more provincial – is even cheaper.
After grabbing some freshly-grilled Pork Satay from a stall and walking up and down the streets checking our more possible souvenirs, we finally settled in an eatery that served just what I was looking for: Pineapple Fried Rice. It was not an easy decision, particularly since almost all eateries served mouth-watering food. You should see the lobsters all over – they are humongous. Pricey (the only expensive item as far as we can tell) – but humongous and very meaty, if what all stalls and eateries were grilling were any indication.
In any case, the place we finally settled in had an excellent array of choices at reasonable prices. We actually spent about half of what we did in Bangkok the night before, and that was already inexpensive.
We capped the night by buying Mango with Sticky Rice from another street vendor. The mangoes are not as sweet as the best mangoes in the world (the Philippine mango, duh), but the combination with the milk and sticky rice is really superb and authentic. Anything we have in our Thai restos in Manila are just a pale comparison, really.
The following morning, we had a breakfast buffet at the hotel. It was a mix of Thai and Western fare, as is expected in these types of accommodations, and most definitely it was very good (especially the fried rice with egg). Still, it paled in comparison to the less refined yet infinitely more exciting food we got out on the streets.
All in all, it was a time well-spent in Hua Hin, foodwise. Make sure to catch the food at the Night Market if ever you're in town.
And I have to tell you: I can survive on Thai cuisine. Yum.
:food trip, Hua Hin