Tag: Ubud
by allancarreon on Jul.16, 2017, under My Life, Travel & Culture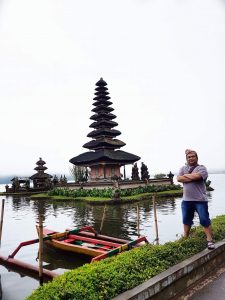 Continued From:
Indonesia 2017, Leg 1: Ubud ng Ganda
After lunch, we went to Pura Ulun Danu Beratan (Pura Bratan for short), a Shaivite water temple by Lake Bratan close to Berdugul. This was a highlight of our temple tour, as the view was spectacular. It is an old temple, dating back to 1633, and honors Dewi Danu, the water goddess of the Balinese Hindus. Do not miss this when going to Bali.
We had a stopover for a quick view of the Jatiluwih Rice Terraces. It was really quick because this was the only part of our tour wherein the rain didn't stop nor slow down. It wasn't a deluge, but it was still enough for us to take fast pictures of the view as well as of us by the view. The terraces are pretty good, though I personally think there are better ones (and I was proven right the next day).
Leave a Comment
:Bali, civet, Indonesia, Jatiluwih Rice Terraces, kopi luwak, Pura Bratan, Tegalalang Rice Terraces, Ubud
more...
by allancarreon on Jul.15, 2017, under My Life, Travel & Culture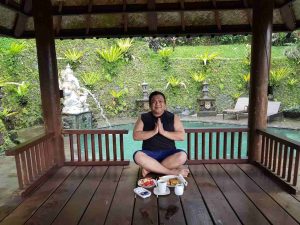 So last Sunday, we arrived in Bali from Manila for a week's getaway in Indonesia. Our itinerary consists of two nights in Bali (specifically in Ubud and the surrounding areas), three nights in Flores Island (about an hour's flight from Bali), then finally another two nights in Bali (this time in Seminyak).
The first time I was in Indonesia was when I went to Jakarta in 2016. Jakarta is very much like Manila, only larger. And just like Manila, it's a business capital. It's very cosmopolitan and – save for some cultural tourist spots like the Istiqlal Mosque, Kota Tua (a.k.a. Old Batavia; think Intramuros, only Dutch-influenced), and several museums – really more of a gateway into the country to get to more touristy destinations.
Bali is quite the contrast. It's significantly more laidback and, if I'll be honest, has a greater cultural feel. It's also different from the rest of the country in that it's the only Hindu-majority area as opposed to Muslim-majority. You can almost feel an old world vibe that comes from a pre-colonial time. Sure, it's modernized as well, but this is a place where you can really immerse yourself, take time to reflect, and enjoy.
Leave a Comment
:Bali, Indonesia, Monkey Forest, Murni's Warung, Pura Taman Ayun, Pura Tanah Lot, Ubud, Ubud Palace, Villa Sarna
more...
Welcome to my mind...

... enjoy your stay!

Search