by allancarreon on Jul.16, 2017, under My Life, Travel & Culture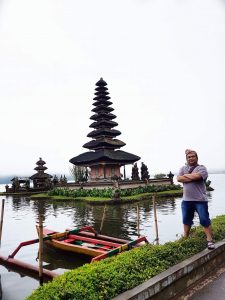 Continued From:
Indonesia 2017, Leg 1: Ubud ng Ganda
After lunch, we went to Pura Ulun Danu Beratan (Pura Bratan for short), a Shaivite water temple by Lake Bratan close to Berdugul. This was a highlight of our temple tour, as the view was spectacular. It is an old temple, dating back to 1633, and honors Dewi Danu, the water goddess of the Balinese Hindus. Do not miss this when going to Bali.
We had a stopover for a quick view of the Jatiluwih Rice Terraces. It was really quick because this was the only part of our tour wherein the rain didn't stop nor slow down. It wasn't a deluge, but it was still enough for us to take fast pictures of the view as well as of us by the view. The terraces are pretty good, though I personally think there are better ones (and I was proven right the next day).
Our last stop took us to a kopi luwak plantation, wherein we got to see how coffee beans are roasted (and we got to do it ourselves, to boot). Of course, perhaps the more important reason to go to such a plantation is to see the civets that… contribute to the most expensive coffee in the world. And if you don't know why, here's an overview. The plantation tour included a coffee and tea tasting session,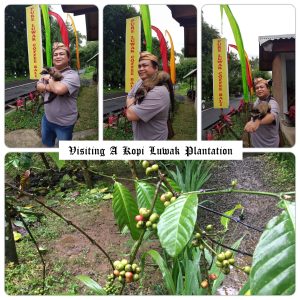 which allowed us to taste all their delicious products for free except the kopi luwak, which for a taste costs Rp60,000.00 per cup. My favorite part, however, was when I made a newfound furry friend named Cepluk, a domesticated civet in the plantation.
It was a very fruitful day, and we ended up back in Ubud central to eat dinner at Oops, a fusion-type place with superb food and a great selection of cocktails and wines. Dammit, we deserved the food and drinks, indeed.
The next day, Bj and I got up early while our gal pals Ia and Jojo slept in. Bj and I would proceed to the next leg of our Indonesia trip (Flores Island) while the girls would later go to Seminyak (also in Bali) before they went home to Manila.
On the way to the airport, Bj and I had a photo-op stopover at Tegalalang Rice Terraces – very near Villa Sarna – and it was definitely more amazing than Jatiluwih. It also helped that the sun was finally up! Nonetheless, I do think our very own Banaue Rice Terraces and Batad Rice Terraces are likely even more spectacular. Still, Tegallalang was worth the visit.
All in all, Ubud is a wonderful destination when in Bali. I'll definitely return.
If you wish to contact Made to arrange for his reasonably-priced tour services, please feel free to comment below so I can share his details privately.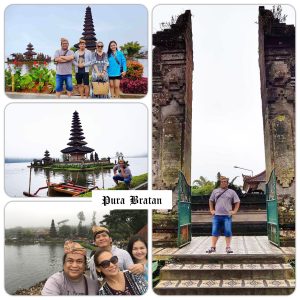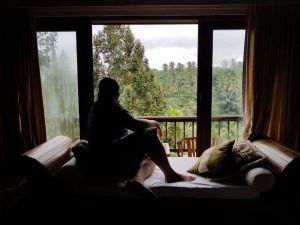 :Bali, civet, Indonesia, Jatiluwih Rice Terraces, kopi luwak, Pura Bratan, Tegalalang Rice Terraces, Ubud