by allancarreon on Jul.15, 2017, under My Life, Travel & Culture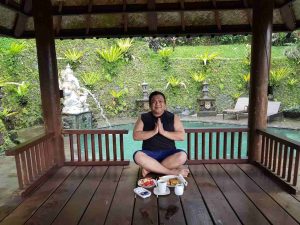 So last Sunday, we arrived in Bali from Manila for a week's getaway in Indonesia. Our itinerary consists of two nights in Bali (specifically in Ubud and the surrounding areas), three nights in Flores Island (about an hour's flight from Bali), then finally another two nights in Bali (this time in Seminyak).
The first time I was in Indonesia was when I went to Jakarta in 2016. Jakarta is very much like Manila, only larger. And just like Manila, it's a business capital. It's very cosmopolitan and – save for some cultural tourist spots like the Istiqlal Mosque, Kota Tua (a.k.a. Old Batavia; think Intramuros, only Dutch-influenced), and several museums – really more of a gateway into the country to get to more touristy destinations.
Bali is quite the contrast. It's significantly more laidback and, if I'll be honest, has a greater cultural feel. It's also different from the rest of the country in that it's the only Hindu-majority area as opposed to Muslim-majority. You can almost feel an old world vibe that comes from a pre-colonial time. Sure, it's modernized as well, but this is a place where you can really immerse yourself, take time to reflect, and enjoy.
We stayed in the outskirts of Ubud, about 20 minutes from Ubud central, in a cozy and isolated resort named Villa Sarna. It is absolutely lovely, a hidden gem of villas tucked away in the mountainside near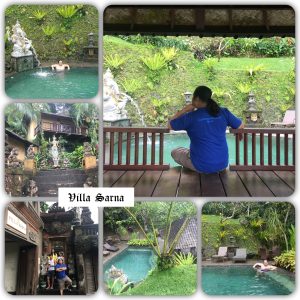 Tegallalang and overlooking the beauty of nature. Serenity is the name of the game in Villa Sarna, and despite needing to travel to Ubud central for nearly half an hour, we definitely made the right choice. We felt like Julia Roberts in Eat Pray Love, only significantly gayer.
Given that we arrived midday already and had almost zero sleep, we just decided to go around Ubud central in the late afternoon after a quick nap. We started off in Ubud Palace (Puri Saren Agung), the official residence of the royal family of Ubud. We then walked for about 15 minutes down the street to see some of the monkeys roaming outside Monkey Forest, but alas, we didn't get in because the park was about to close. We spent the rest of the time shopping, walking around, and eating dinner at Murni's Warung, which was excellent.
On Monday, we hired a private driver that a friend of mine referred. The driver, whose name is Made (pronounced "Ma-Deh"), took us around various tourist spots for a very reasonable price across 12 hours. And by that, we mean going to places far from Ubud itself. We braved the rains, for it was a rainy summer day, but most of the time we were lucky because the rain stopped (or slowed down) each time we got off a destination except for Jatiluwih.
We first went to the Tanah Lot Temple, a lovely Hindu icon facing the Indian Ocean. "Peaceful" is not a word I'd use to describe the place, primarily because of the hordes of tourists that crowd the place. (Of course, we're one of those tourists.) They do have some gift and souvenir shops with goods cheaper than Ubud, where it's already fairly cheap.
This was followed by a trip to Pura Taman Ayun, a temple compound sitting on a lovely garden with water features. Though there were also tourists here, it was definitely more serene and quiet, and you could feel the vibe of spirituality much better.
This was followed by a buffet lunch in a restaurant called Labhagga Pacung. It was a very traditional Indonesian meal with a very lovely view of some rice terraces. It's pricey (Rp125,000) for a so-so food spread; the only thing I enjoyed was the Nasi Goreng Ayam and the Mie Goreng. It seems tourists are being brought here by guides (arrangements, I wager); I think you're really paying just for the view. Skip it and find a different place unless you have no other option based on your itinerary.
Continued In:
Indonesia 2017, Leg 1: Ubud ng Saya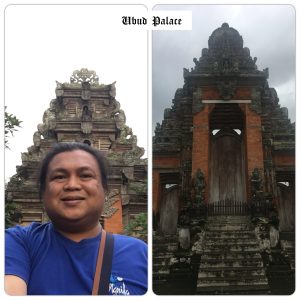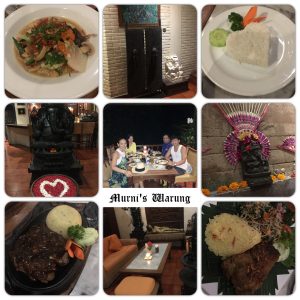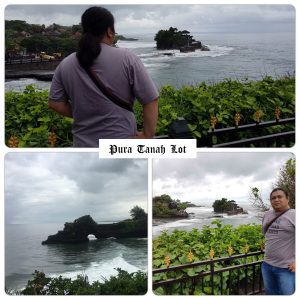 :Bali, Indonesia, Monkey Forest, Murni's Warung, Pura Taman Ayun, Pura Tanah Lot, Ubud, Ubud Palace, Villa Sarna