Tag: Slam Dance
by allancarreon on May.21, 2018, under Film & TV, My Life, Queer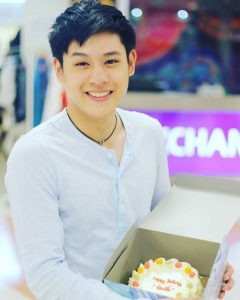 Pluem Purim turns 21 today, May 21st, during the 21st century (as my friend André said).
I've been a huge fan of Thai actor Pluem Purim Rattanaruangwattana (okay, let's call him Pluem) since last year. I first saw him on Slam Dance, where he played Ryu.
Interject: Slam Dance made me a fan of Thai-seryes – which I find more interesting than Koreanovelas and all the other Asian imports. I find that the Thai are less uptight about solid LGBT stories, something woefully lacking in much of Asian soaps and series.
Back to Pluem.
1 Comment
:Pluem Purim, Slam Dance, Thai, Thailand
more...
by allancarreon on Jul.13, 2017, under Film & TV, Queer, Travel & Culture
I just love this clip that showed up on my newsfeed recently. Apparently, it's from a Thai TV series called Slam Dance, which now I need to watch in full. With subtitles, hopefully.
Leave a Comment
:gay, love, Slam Dance, Thai, Thailand
more...