Tag: Justin Hartley
by allancarreon on Sep.30, 2017, under Film & TV
I never saw Bad Moms, but apparently it's getting a sequel, the trailer of which I came across recently because, well, Justin Hartley.
And if Justin Hartley, on his back with his legs up high while talking about his… orifices, weren't enough to convince me that A Bad Moms Christmas is worth a look (or three), then Susan Sarandon, Christine Baranski, and Wanda Sykes being in the mix seals the deal.
Leave a Comment
:A Bad Moms Christmas, Cheryl Hines, Christine Baranski, Justin Hartley, Kathryn Hahn, Kristen Bell, Mila Kunis, Susan Sarandon, Wanda Sykes
more...
by allancarreon on Oct.26, 2016, under Film & TV, Queer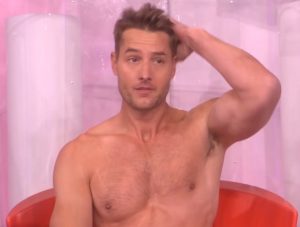 Ellen is probably the only lesbian who loves having shirtless hot men frequently appear on her show. And we are eternally grateful for this.
I'm glad she recently got one of my faves, Justin Hartley (Smallville's Green Arrow), to come and do this water thing. Because, well, wet Justin Hartley is a hundred times even better than regular Justin Hartley. Too bad his Aquaman show way back when didn't get picked up.
Leave a Comment
:Ellen, Justin Hartley
more...