by allancarreon on Oct.26, 2016, under Film & TV, Queer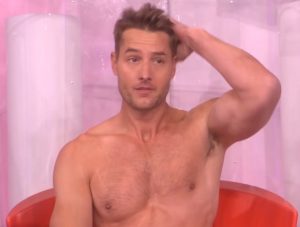 Ellen is probably the only lesbian who loves having shirtless hot men frequently appear on her show. And we are eternally grateful for this.
I'm glad she recently got one of my faves, Justin Hartley (Smallville's Green Arrow), to come and do this water thing. Because, well, wet Justin Hartley is a hundred times even better than regular Justin Hartley. Too bad his Aquaman show way back when didn't get picked up.
Also, barring that and with the end of Smallville years ago, he really should have been cast as the Flash / Barry Allen on the CW Arrowverse. Not only does he look like the comics version, but he's certainly better than that whiny Gustin twig. Just saying.
And here are a few Justin Hartley bonuses from the past.
Enjoy, indeed.
:Ellen, Justin Hartley