Archive for May, 2020
by allancarreon on May.21, 2020, under Film & TV, My Life, Queer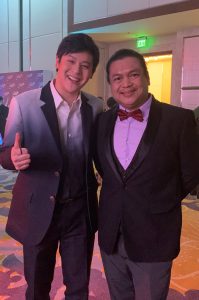 สุขสันต์วันเกิด, Nong Pluem! Happy 23rd birthday, Purim Rattanaruangwattana!
Anyone who knows me well knows that I watch a lot of Thai series, especially BL, and that Pluem Purim is my favorite Thai actor. Starting with Slam Dance, I followed him to My Dear Loser / Our Skyy, the critically-acclaimed Happy Birthday: The Series, and the recent One Night Steal. I've also seen many of his past works, including Grean Fictions, Greanhouse, Siam Square, and others.
I first met Pluem in person at Chiang Mai Airport during my birthday vacation in 2018.
Since then, I've met him again twice.
Comments Off

on Pluem at 23
:Asian TV Awards, BL, GMMTV, Happy Birthday, My Dear Loser, Our Skyy, Pluem, Pluem Purim, Thai, Thailand
more...