by allancarreon on Jun.17, 2017, under My Life, Queer, Society, Travel & Culture

One week to go before Metro Manila's Pride March!
Last year, we cried Let Love In! This year, we rally further as we ensure we are #HereTogether, a very apt theme to remind us that – despite having diverse backgrounds even within the LGBT community – we are all in this together. United, we shall overcome! Our differences will not divide us.
2017 Metro Manila Pride will be historic as it will be held in Marikina for the first time. The lovely city of Marikina is one of the most gay-friendly places in the country. I should know; I'm frequently there because some of my besties are Mariqueños. It's about time that the local LGBT community branch out and move away from its comfort zones to see the other places where we can wave our flag proudly and explore new ground.
In line with this year's celebrations, UP Babaylan ties up with Moonleaf Tea Shop to create a special limited edition Pride flavor called Love Equality (Love Equali-Tea? Heh). It was launched last night in Moonleaf Maginhawa in an event that featured performances from local artists and capped off with an open mic. This lovely Equality-themed drink will also be available during the Pride March next week. Give it a try! I'm sure it'll be a blast. Proceeds will go to UP Pride in September; it's always great to help the young ones start their advocacies for the LGBT community early, right? Yaaasss.
Meanwhile, this year's Pride March organizers are still looking for additional Pride Fund Donors! As of last June 13th, they were only at 23% of goal (Php51,791.00 vs. Php228,420.00). Still a long way to go, and I just know we as a community can truly be #HereTogether by helping out.
If you wish to support by donating, you may click this link:
http://mmpride.org/MF2017/pridefund/
(Disclaimer: I am not part of the Metro Manila Pride committee. This is an independent call to action from a supportive and fabulous gay man.)
See you at the Pride March! Kitakits!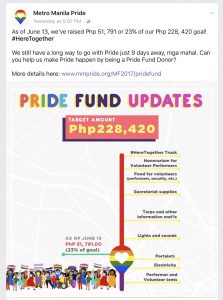 :Pride 2017, Pride March