by allancarreon on Jun.04, 2017, under Geeky, My Life
While everyone seems to be going gaga over Mobile Legends, I'm still happily playing three different DC mobile games: DC Legends as well as the two Injustice games. Injustice 2, in particular, had done a beta release for its mobile app a few months back (obviously, I jumped right in back then).
Finally, in early May, the full launch happened with lots of new goodies. The console version was also released on May 16th (time to bring out the PlayStation once more!).
You all can have your Mobile Legends. I'm definitely still hooked on DC.
Harley Quinn. Scarecrow. Robin. V. Henchmen. Harley Quinn. Bane.
May I just say that I've never been a fan of Damian Wayne? He's annoying just like Jason Todd, and for the most part, all of his different versions (including comics as well as the DC Legends game and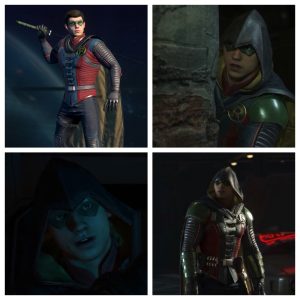 his Nightwing persona in the first Injustice) have irritated me. My favorite Robin will always be Tim Drake, and if we're talking sexiness, that would be Dick Grayson (upon hitting legal age, of course, and as Nightwing).
That said, Injustice 2 has done the impossible. So far, based on the story mode, I like this Damian Wayne, and… I have a crush on this version. Damn. At least he's fictional, as otherwise he would be known in these part as "jailbait." Or maybe he's older in this universe. I see Charlie Puth potentially playing him if Charlie Puth were an actor.
In any case, Damian's Robin costume here is also my second favorite, just after Tim Drake's original version.
Who would've thought I'd ever like any version of Damian Wayne?
Ah, well. Stranger things have happened.
(But Jason Todd? Still no. I hate him.)
Catwoman. Swamp Thing. Doctor Fate. V. Scarecrow. Cyborg. Green Lantern.
Wonder Woman. Gorilla Grodd. Green Lantern. V. Wonder Woman. Deadshot. Green Lantern.
:DC Comics, gaming, Injustice: Gods Among Us, NetherRealm, WarnerBros