by allancarreon on Feb.08, 2017, under Music & Theater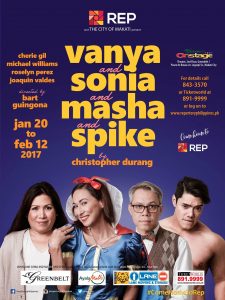 I recently got to watch Repertory Philippines' Vanya and Sonia and Masha and Spike, a comedic play that took some inspiration and influence from Chekov. Except you don't need to know Chekov to immerse yourself in and enjoy the play.
I went in with almost zero knowledge of the non-musical play – other than it had won a Tony a few years back and it boasted of a pretty esteemed cast – so it was one of those rare moments, in a world full of social media spoilers, wherein I was in for some truly pleasant surprises.
In this play, which I shall abbreviate as VSMS because dear lord that is one long title, we look into a couple of days in the lives of three middle-aged siblings all named by their theater-enthusiast professor parents after Chekov characters. Two of them, the older and semi-closeted Vanya (Michael Williams) and the adopted and insecure Sonia (Roselyn Perez), have been living rather boring lives together, a result of dropping everything else to take care of their parents until they passed away. The third, conceited and beautiful Masha (Cherie Gil), has been supporting them financially as a successful and famous movie actress, albeit one who is always away from the family home.
The uneventful daily routine of Vanya and Sonia is interrupted when Masha comes home for a surprise visit, bringing along her new lover – a young, struggling, and oversexed hustler actor named Spike (Joaquin Valdes). In a tale told in the confines of their home's living room across the span of a weekend, we see the lives of the siblings go topsy-turvey as they bicker, go to a costume party, deal with their bizarre yet zany housekeeper Cassandra (who may or may not be clairvoyant), get to know the saccharine and bubbly young neighbor Nina (who may or may not be Masha's competition for Spike's attention), and face the threat of potentially losing their beloved ancestral home.
It's not hard to see why VSMS won a Tony. The script is intelligent, the humor elegant and subtle (yet uproarious when it needs to be in well-placed beats), and the themes powerful and close to the human experience. This play, while it gives you a cheeky taste of Chekovian fare without actually being Chekov, brings to it a darker undertone of what life can become as one grows older without having truly lived. It casts a light upon the struggles of finding fulfillment and purpose while growing older in an ever-evolving modernized world without forgetting that laughter and humor are also a reality that can balance out the creeping darkness.
And as for the local staging itself, the script is brought to life through crisp directing by veteran Bart Guingona and the performances of a strong ensemble cast, none of whom could be accused of being a weak link. All of them embodied their respective characters so thoroughly and so effectively that you get engaged in the entire play without realizing that it's really mostly just conversations between people in one living room the entire time.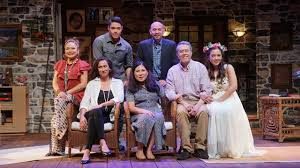 There are few local actresses who could do Masha justice, and Cherie Gil is the best among them. She will always be the best contravida of her generation. What's more important is how she infused the character with empathy and complexity which, in the hands of a lesser actress, could be lost in a flurry of stereotypical antagonism.
Joaquin Valdes, whom I first saw in Ako Si Josephine last year, is a charming Spike – one you would love to hate, as is perfect for the character. You see the douchebaggery coming from a mile away, and yet you can't help but still be smitten. How well Joaquin manages to embody this character so diametrically opposed to his repressed and uncertain Chinito from Ako Si Josephine and make you see the characters (as opposed to him, the actor) shows his versatility and talent. I do hope he doesn't catch pneumonia with all the shirtlessness and underwear-only goodness. Still, a hilarious reverse striptease is not something one sees everyday.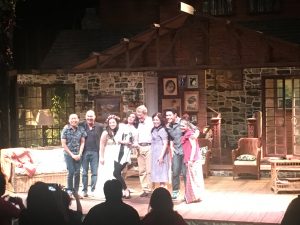 Watch out for Michael Williams' "licking the postage stamp" Vanya monologue. This is enough to seal the deal on why Michael Williams is the Michael Williams. It is both hilarious and poignant, a five-minute (maybe more) rant that sums up the character of Vanya very well. Very few actors could nail that moment, but we're talking about Michael Williams here, and nailing acting moments is pretty much commonplace for someone of his legendary caliber.
I confess to not being too familiar with the works of Roselyn Perez (Sonia), Mica Pineda (Nina), and Naths Everett (Cassandra), but all three were very good as well and perfectly fit their characters. Naths, in particular, was a scene-stealer every time she was onstage as the quirky cleaning lady who's prone to making weird pronouncements and pricking voodoo dolls.
VSMS is a show worth watching, and they only have four shows left for this run. Do yourself a favor: listen to Joaquin below and catch one of the remaining shows this weekend (Friday night, two Saturday shows, and one Sunday matinee). You won't regret it.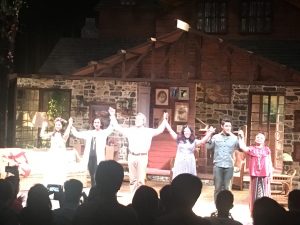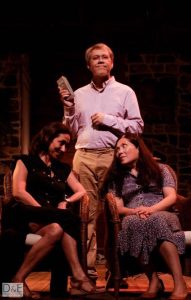 :Repertory Philippines, Vanya and Sonia and Masha and Spike