by allancarreon on Sep.26, 2016, under Music & Theater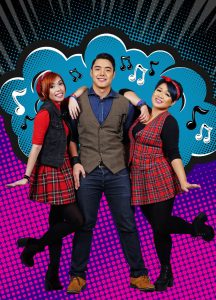 I'm not really a fan of Yeng Constantino, so I wasn't quite sure what to expect when I went to watch Ako Si Josephine, a musical featuring her songs (which, to be honest, I'm only vaguely familiar with).
I do love musicals, as anyone who knows me would know, and I'm especially thrilled that original Pinoy musicals have been experiencing a great renaissance in the last decade (the long-running ZsaZsa Zaturnnah which is long overdue for another staging, Rak of Aegis, Kung Paano Ako Naging Leading Lady, and the film I Do Bidoo, among others). Factor into the equation that two of my good friends are in the cast (hello, mga ses Ricci and Doemi!), and it was a no-brainer that I'd watch Ako Si Josephine.
I came into the theater with practically zero knowledge about what the story would be about, beyond the outrageous costumes I'd seen in publicity photos, and I was pleasantly surprised because I was expecting maybe something a bit more mundane like the great Rak of Aegis. Instead, I got a colorful fantasy alternate reality dystopic story featuring AIs and a delightfully bizarre society where music is essentially the economy of daily life.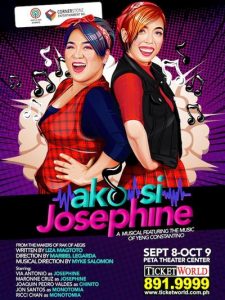 In the world of Allegra, the majority of music is banned save for a carefully-crafted, government-approved kind called HYP, a monotonous genre which in reality is the means by which the people are subdued and controlled. In this world controlled by the despotic Monotomia (alternating between Ricci Chan and Jon Santos) and the henchmen Konduktors, there is no room for songs about hope and love, only HYP.
The production of music is assigned to laborers headed by master composer Chinito (Joaquin Pedro Valdes) and his subordinate, the optimistic Josephine (alternating between Via Antonio and Maronne Cruz). With the help of their fellow Syncopados, an underground movement, the pair find themselves drawn towards bringing music back to life… and to each other.
The entire production is absolutely delightful, with not a single cast member falling out of line. It is a strong cast and a strong production, and I will leave it that.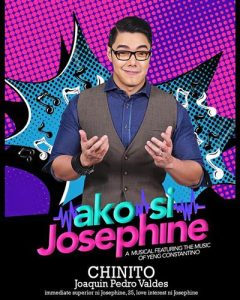 What's more significant, I think, are the various layers of subtext worth noting.
First, of course, it is about music and the value it brings into society. What kind of dark world would it be if the beauty of music, of art, were removed or repressed? What power does music wield in bringing both despair and hope to people?
There is consequently metaphor for propaganda, where music substitutes as the tool for deceiving and controlling the masses in order to provide an illusion of peace and utopia – and where music, when used for good, becomes the tool for liberating society and for allowing free will to rise once more.
This leads to the core of the piece: the play reflects a tragic time of Philippine history. Whether this is intentional or not, I cannot say, but a lot of the nuances and scenarios presented are all-too-familar to ignore: people disappearing for dissenting, torture, violence over inconsequential offenses, activists driven underground and seeking to fight back against an oppressive regime. When Flattitude, the messenger who conveyed forbidden notes (literally and musically) between Chinito and Josephine, is caught by the authorities, it recalls a dark time when Filipinos who did such things were severely punished.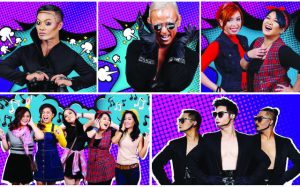 If this weren't 2016 and if the music weren't so modern or the humor so outrageous, I could swear this could be a play staged by UP Diliman activists.
Ako Si Josephine is a wonderful play. It is a very subversive piece of art, and considering the current socio-political climate of the nation, it is also very timely.
Watch it. Learn. Enjoy. You won't regret it.
—
Ako Si Josephine is showing in PETA until 09 October 2016. Tickets are available through Ticketworld. There are also sellers on social media, mostly those who bought shows.
[flagallery gid=9 name='Ako Si Josephine']
:Ako Si Josephine, musical theater, OPM, Yeng Constantino