by allancarreon on Oct.10, 2016, under Music & Theater
So because I enjoyed Ako Si Josephine so much, I had to watch it a second time, which is typical of me. Watching it again most definitely did not diminish the awesomeness of the unique production.
In fact, the rewatch enhanced it – and given that it was also the final show of the run, there were a few added surprises (such as Yeng Constantino appearing during curtain call with a special song number).
The review I wrote for the show the first time I watched it largely focused on the story / material itself – on its subversive nature and how relevant it is given the current socio-political climate of the country. Now, I'd like to give the production itself, along with its cast, the recognition it deserves.
The colorful staging and the creative use of multimedia to tell the story were most definitely top-notch. The visuals were amazing, particularly the dazzling costumes (which I'm always partial for). I read somewhere that they wanted a bit of a graphic novel feel to the production, and certainly they achieved this. Additionally, the comparatively small PETA space brought out wonderfully innovative ways of optimizing the stage.
This time, I also further appreciated the reimagination of Yeng Constantino's songs to fit the narrative. Like I said before, I've not really been a fan of Yeng and have only been passingly familiar with her more popular tunes. The new theatrical arrangements and subverted meanings have given me new admiration for her talents as a lyricist and composer.
Of course, there will be the inevitable comparisons to the other recent Pinoy jukebox musical, Rak of Aegis, which involved a number of the same people – including musical director Myke Salomon (a member of that singing group I adore – the Akafellas). I'll be honest: Yeng's songs grew on me, but I still much preferred Rak in terms of music (likely due to being more familiar with the material). However, Ako Si Josephine edges Rak out in terms of story.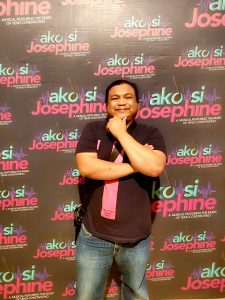 As for the cast, like I said in my prior article, it is a strong one, with not a single member falling out of line. I actually watched the same cast during both viewings, so I cannot really provide an opinion on the alternates – but when one of the alternates is the legendary Jon Santos (Monotomia), I'm sure they are just as stellar as the cast that I viewed twice.
Via Antonio (Josephine) leads the pack with unbridled energy and a powerful singing voice packed in such a tiny body. I say that with awe, of course. She gives such fire and life to the optimistic and lovestruck eponymous title character, injecting her interpretation with both heart and a healthy dose of humor. My friend said she reminded him of the iconic Eugene Domingo, and I agree.
Joaquin Pedro Valdes (Chinito) does the leading man role spectacularly. He's able to seamlessly balance the various complexities of his character – the repressed and often stiff persona torn between duty and what is right, the loving and passionate man struggling just beneath the surface, and the nasty brainwashed puppet he turns into at one point. Why this guy isn't doing more work in front of the audience, I have no idea; I believe he does more work behind the scenes as a director and such. However, I and dozens of others definitely wouldn't mind seeing more of him onstage (perhaps as the next Dodong in a ZsaZsa Zaturnnah Ze Muzikal long-overdue restaging?).
Ricci Chan (Monotomia)… well, I don't want to be accused of bias since I've known and been good friends with Ricci since our grade school days in Ateneo. But the reality is, Ricci was a fantastic singer and performer back then, and he's still just as fantastic a singer and performer now, if not more so. In his usual flair, style, and vocal prowess, Ricci brings the despotic villain to a whole new level of sass combined with depth. His witty ad libs are just as effortless as they were when we were just kids having a riotous laugh.
The supporting cast were all perfectly chosen, and every single one portrays their respective parts very well. It's indeed an ensemble of excellent talent in a single stage. I will, however, give a shout out to two folks.
One is Domi Espejo (the henchman Schizoprano) – who, yes, I may also be biased about given we've also been close friends since Days with the Lord in Ateneo High School. But as with Ricci, it's not really bias when the person is truly talented. Able to hold his own against such esteemed castmates, Domi proves he makes an effective villain here just as he was as the main baddie Señor Blanco in last year's surprise hit Kung Paano Ako Naging Leading Lady.
The other is Victor Robinson (Flattitude, one of the rebellious Syncopados), who truly stole the show in most of the scenes he was in. He also has a great singing voice, and I believe this young man will go places given the right opportunities. Heck, he just might be the next JC Santos (who was also in Kung Paano Ako Naging Leading Lady last year as the crazy Jeryc Sans Rival and who has since found a lead part alongside James Reid in the teleserye Til I Met You).
All in all, Ako Si Josephine is a great new addition to our growing "library" of original Pinoy musicals. It's sad that it has ended its first run already, but from the looks of it, it's quite the success. I look forward to a second run sometime in the future. Sooner than later, hopefully.
In the meantime, I'm eagerly awaiting the return of Care Divas to the stage this January 2017. It's a great time to be a Pinoy lover of musical theater.
:Ako Si Josephine, musical theater, OPM, Yeng Constantino