by allancarreon on Nov.29, 2016, under Film & TV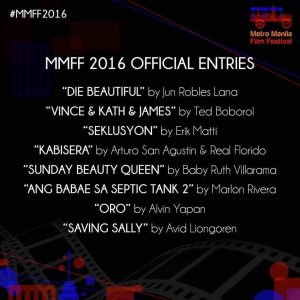 This year, finally after such a long time, the Metro Manila Film Festival (MMFF) shifts back its focus to actual quality films rather than mere commercial fare. Of course, the final judgment on the quality of the films will happen once they are shown, but a quick glance at the list of eight films that made the cut shows an array of out-of-the-box choices that hasn't been seen in the festival in a couple of decades.
You see, at some point in the last ten to twenty years, the MMFF became a mere money-making venture, quality be damned. I have no idea at what point this change towards blatant commercialization happened, but it was definitely a contributing factor to the deterioration of quality film-making in the country. This is not to say there have been no good MMFF films in the last decade or so because there certainly have been. However, the garbage has far exceeded the diamonds when it came to the MMFF in recent years.
This is unfortunate since the MMFF was historically a haven of true quality films. This is the festival that brought us Jose Rizal, Imortal, Dahas, Halimaw, Kisapmata, Insiang, Minsa'y Isang Gamu-Gamo, Bulaklak Sa City Jail, and Himala, among so many others. This is not to say there were no bad or fluff films back then, but the diamonds far exceeded the garbage in those times. The MMFF was a showcase of Filipino film-making talent that also provided a strong sense of social relevance.
Paolo Ballesteros won Best Actor for this movie in the Tokyo International Film Festival.
This is why I find the gall of certain personalities who are whining about their exclusion this year particularly appalling. Let's not forget they are (unfortunately) usually able to dominate box offices regardless of when their films get shown, so it's truly a dickish move to whine about less commercial films getting an opportunity to shine and showcase themselves to a wider audience outside the niche markets of Cinemalaya or Cinema One.
Vice Ganda tried to take it in stride by claiming all his films have been quality. My friend Randolf commented simply, "May quality naman. Bad quality nga lang." I seriously have no idea how one could be as self-deluded as Vice.
Vic Sotto, whose ability to create entire movies out of product placements is legendary, whined how the MMFF selection committee should have respected "Filipino tastes." Honey, if you represent Filipino taste, I would rather have no taste buds. Then again, not all of us have a taste for Pepsi, either. Such hubris to think only he knows what Pinoys want in their films.
Thinking way outside the box with this selection: bravo!
Then of course, Mother Lily – Regal Films matriarch – also had to have her say. After all, seeing that her films have earned her millions upon millions in the last four decades, she might go poor if she doesn't get into this year's festival. Her pearl of wisdom is thus, "It's not that I'm teaching them pero all these poor people, mayroon silang mga bonus. Once they get their bonus, they bring the whole family to the movies to watch. …Sayang lang nanghihinayang ako sa mga bata." Roughly translated, it means she's annoyed that she won't get her cut of all that bonus money. That, and she took a swipe at "indie films."
She's also basically saying that poor people as well as children are incapable of understanding and appreciating well-crafted films.
No wonder talented Mercedes Cabral called her an idiot.
Let me tell you something: I watched and loved Himala when I caught it on TV when I was around ten years old circa the late 80s. It is absolutely bullcrap to assume that kids can only enjoy "kid flicks" (whatever that means) and that they are incapable of comprehending more complex viewing fare.
A film over ten years in the making: life and love, semi-animated.
This notion of dumbing things down for "the kids" is what's truly dumb.
Besides, do these idiots really think that Vice Ganda's brand of comedy is "kid-friendly" based on their own questionable standards?
Also, it's not as though the selections have no major studio that made it: Star Cinema's Vince & Kath & James is on the list. So the claim that this is an "indie filmfest" has been debunked; you can't go more major than Star Cinema. Seriously. All the whining about indie films is simply moronic and plainly masks nothing more than bitterness on the part of the detractors.
How is Star Cinema an indie outfit, Mother Lily? Please explain.
Thankfully, the MMFF selection committee this year regained some common sense as well as good taste. Hopefully, this shift towards "quality first" thinking is not just for this year but moving forward.
In the meantime, here are a few more trailers of films from the upcoming festival. Just looking at these already makes me feel very positive about this year's Christmas viewing.
You can't argue about the lack of star power when you have THE Nora Aunor in there.
Eugene Domingo is Eugene Domingo…
… and Erik Matti is Erik Matti.
:
Metro Manila Film Festival