Tag: Shah Cheragh
by allancarreon on Oct.06, 2017, under My Life, Travel & Culture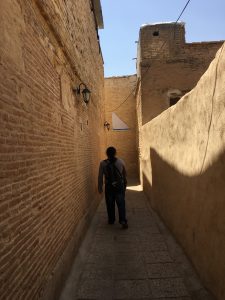 Exploring Shiraz
Shiraz, Iran
23 September 2017
The ancient City of Shiraz is a center of poetry and literature. It was once the capital of Persia, during the Zand Dynasty, and currently it is the capital of the province of Fars. It is a wonderful city that combines the ancient and the modern, where the brick-walled homes and fortresses blend with and around majestic and beautiful mosques and gardens.
On our first day in Shiraz, we went to Shāh Chérāgh ("King of the Light"), the most important pilgrimage site within this city. We learned more about this funerary shrine and mosque from our tour guide. It houses the graves of the brothers of Ahmad and Muhammad, brothers to Ali al-Ridha, the eighth Shi'ite Imam. The brothers had taken refuge in the city to escape the persecution of Shia Muslims sometime around 900 AD. Their graves had been lost to time until Ayatullah Dastghā'ib saw, from a distance, a light coming from the area; upon investigation of the source of light, the graves were found, inscriptions indicating who were buried there.
Leave a Comment
:Arg-e Karimkhan, Iran, Muharram, Persia, Shah Cheragh, Shiraz, travel
more...
Welcome to my mind...

... enjoy your stay!

Recent Comments

Search