Tag: Qur'an Gate
by allancarreon on Oct.10, 2017, under My Life, Travel & Culture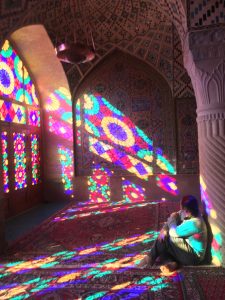 Nasir-ol-Molk: The Pink Mosque
Shiraz, Iran
25 September 2017
Nasir-ol-Molk (also known as Nasiralmulk) Mosque is a mosque in Shiraz near the Shāh Chérāgh. Built during the Qajar dynasty in the late 1800s, it is known as the Pink Mosque because of the pink tiles that are used around the structure. It also utilizes a lot of five-concaved design elements known as Panj Kāse.
The mosque is also perhaps even more famous for its stained glass windows that provide a glowing mosaic of colors across one of the rooms when the early morning sunlight hits them. It gives you an almost spiritual feeling of both awe and serenity when you experience it. The best time to visit is early morning, around 7:30AM when it opens to the public, when the rays of light pass through the windows. Come in as early as possible to avoid the crowds of tourists that come in so you can, at least temporarily, enjoy some personal meditative or reflective moments.
Leave a Comment
:Ali Ibn Hamza Mosque, Cradle of Vision, Iran, Nasir-ol-Molk, Persia, Qur'an Gate, Shiraz, travel
more...
Welcome to my mind...

... enjoy your stay!

Recent Comments

Search