Tag: Matilda
by allancarreon on Dec.07, 2017, under Literature, Music & Theater
Continued From:
The cast of the Atlantis production of Matilda is superb. There are three alternates who play Matilda, and I watched Uma Naomi Martin (the other two are Esang De Torres and Felicity Kyle Napuli). Uma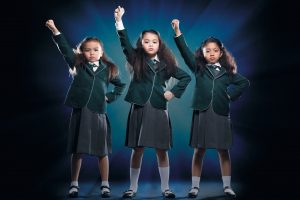 is a talented child who superbly portrays the strengths and vulnerabilities of the lead character so that the audience truly roots for her. The best compliment to her capability is when the audience – half of which are schoolkids who likely identify with Matilda – clapped and cheered loudlt during the climactic moment when she finally put Trunchbull in her place. The children approve.
Cris Villonco is Miss Honey, and she captures the sweetness and compassion of the character to the hilt. In the hands of a lesser actress, the character of Miss Honey could have been a one-note pollayana, but Cris imbues the role with sufficient three dimensionality to make her well-realized and truly human in a world of satiric caricatures.
Leave a Comment
:Broadway, Matilda, musical theater
more...
by allancarreon on Dec.06, 2017, under Literature, Music & Theater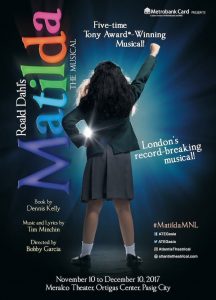 Children, especially in hordes, can be a rowdy bunch. This is just a reality of life. However, they can also be an amazing group of smart and endearing young people who can, on occasion, prove to be wiser and more mature than all the clueless and insensitive adults around them.
This is made quite apparent by Roald Dahl's Matilda, a story about a precocious little girl – abused and unwanted by her own family – who finds empowerment (literally and figuratively) as she makes friends in a school run by a horrific headmistress.
The tale of Matilda Wormwood has been adapted for both screen and stage, and Atlantis Productions is currently doing the musical in Meralco Theater. And quite a production it is.
I came into Matilda with zero expectations. Though I'm superficially familiar with the basics, I've never read the book nor have I watched the critically-acclaimed film. I know almost nothing about the musical adaptation. However, one of my friends – even more of a theater enthusiast than me – watched it and said it was great. He was willing to see it with me again.
Leave a Comment
:Broadway, Matilda, musical theater
more...
Welcome to my mind...

... enjoy your stay!

Recent Comments

Search