Tag: La Plancha
by allancarreon on Jul.19, 2017, under My Life, Travel & Culture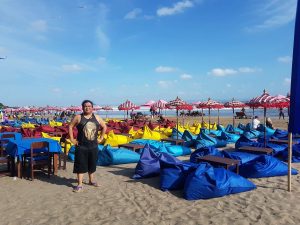 Late Friday afternoon, we found ourselves back in Bali.
This time, we stayed much closer to the airport, in Seminyak village, at the Astagina Resort, which is a mere five minute walk from the beach. This was perfect as it afforded us a quiet place to stay but close and accessible enough to the hustle and bustle of the famed Bali shore, which I was quite excited to see for the very first time.
Due to traffic, we checked in quite late – almost early evening. As we didn't have much left to do for the night, we decided to just explore the area for a good dinner place. We made our way to Jalan Dhyana Pura, a busy stretch of street where we were hoping to get dinner in Mozzarella, which we found had high ratings on TripAdvisor. Alas, the place was packed, so we decided to have Japanese food across the street – an intriguing place called Sushimi. We were lucky as the place also had delicious food, and it was a welcome change from the Indonesian and Italian/mediterranean food we'd been having for the past week.
Comments Off

on Indonesia 2017, Leg 3: Sand and Surf
:Anjali Spa, Astagina, Bali, Indonesia, La Plancha, Seminyak, Sushimi, Warung Asia
more...