by allancarreon on Jul.19, 2017, under My Life, Travel & Culture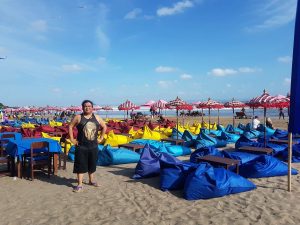 Late Friday afternoon, we found ourselves back in Bali.
This time, we stayed much closer to the airport, in Seminyak village, at the Astagina Resort, which is a mere five minute walk from the beach. This was perfect as it afforded us a quiet place to stay but close and accessible enough to the hustle and bustle of the famed Bali shore, which I was quite excited to see for the very first time.
Due to traffic, we checked in quite late – almost early evening. As we didn't have much left to do for the night, we decided to just explore the area for a good dinner place. We made our way to Jalan Dhyana Pura, a busy stretch of street where we were hoping to get dinner in Mozzarella, which we found had high ratings on TripAdvisor. Alas, the place was packed, so we decided to have Japanese food across the street – an intriguing place called Sushimi. We were lucky as the place also had delicious food, and it was a welcome change from the Indonesian and Italian/mediterranean food we'd been having for the past week.
Plus, it had a sushi/sashimi "conveyor belt," which was so cool!
We then just spent the rest of the evening walking around the streets that were still quite alive: shops, bars, restaurants, spas. We only covered a couple of streets because we were tired and the area is big, but it gave us a great experience of what Bali has to offer.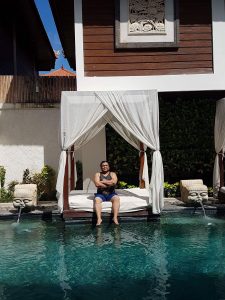 The following day, Saturday, was our seventh and last full day on this trip. We spent the better part of the day making the most of our Astagina stay: sleeping in late, having a buffet breakfast, lounging by the pool with mocktails, enjoying their free afternoon tea and cassava cakes by the beautiful garden. We booked this place as a last choice due to most of what we'd initially wanted were already sold out, but it turned out to be a blessing as the place was gorgeous. Although not perfect, it was a great place to feel a modern Balinese experience, a mix of the old world and the West.
In the late afternoon, we headed over to the beach, specifically looking for La Plancha, a popular seaside restaurant that had good word of mouth. The mouths were not wrong, as the colorful and festive beanbags and umbrellas of the place simply energized me. Plus, all the gorgeous tourists lying around. It was a feast for the eyes.
They also have the best grilled corn I've ever had. Seriously. It was smothered in some tasty barbecue sauce, and some onion and bell pepper slices were inserted between portions of the cut-up cob skewered through a wooden stick.
Of course, it was the beach itself that we came for primarily.
Well, that and, again, the gorgeous tourists.
Can't stress that enough.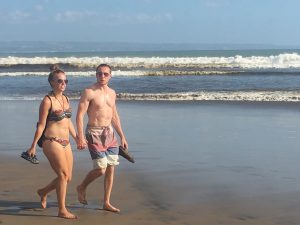 Kidding aside, it is true that this brown Bali beach is nowhere near the beauty of several Philippine white beaches like Boracay, but the roaring waves are most definitely spectacular. No wonder people travel here to surf, especially Australians due to their proximity to Bali. I don't think I've ever seen such glorious waves crashing against the shore for sexy surfers to conquer. It was just too bad that we went to the beach really late, as I got the urge to take surfing lessons being offered by many locals; I vowed to return and take those lessons in the future. After dipping and playing in the powerful waters of Seminyak, we waited by the beach for the sun to set beautifully on the horizon.
In the evening, we had dinner in Warung Asia, just outside our resort. It was ostensibly a Thai restaurant, but they also had a lot of Indonesian choices on the menu. The food was pretty good – perhaps nowhere near authentic Thai cuisine in Bangkok, but then, what food is outside Thailand? – and it was reasonably priced considering we were in a busy touristy area.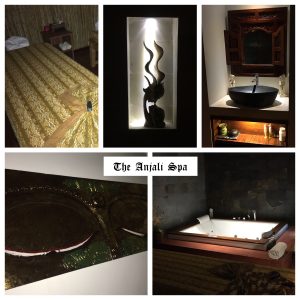 Right before going to bed, I treated myself to a one hour Balinese massage back at the resort's in-house spa, the Anjali Spa. They had a promo for in-house guests: 30% off, plus a free treatment (I chose a 30-minute avocado body scrub). It was worth it. I've heard great things about the Balinese massage, and these great things turned out to be true. I was extremely relaxed and completely detoxed.
Too bad we had to get up before dawn to catch our 8:35AM flight back to Manila the next day, Sunday. Wish they had trips later in the day.
Ah, well, all good things must come to an end.
This year's Indonesia trip was well worth the planning and effort.
I'd do it all over again.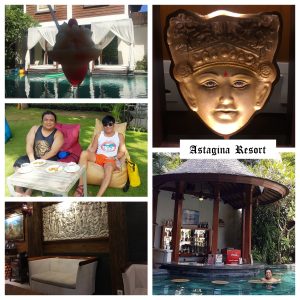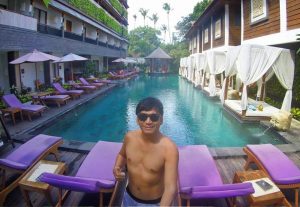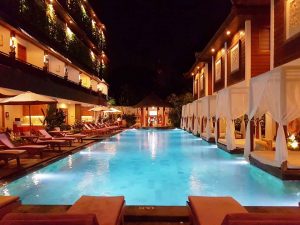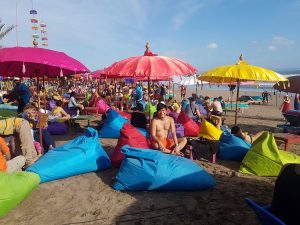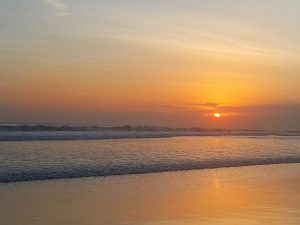 :Anjali Spa, Astagina, Bali, Indonesia, La Plancha, Seminyak, Sushimi, Warung Asia