Tag: Friends
by allancarreon on Dec.31, 2017, under Geeky, Literature, My Life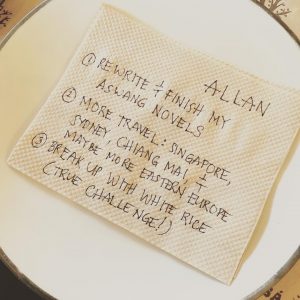 So over lunch yesterday, Jessica made me, Evan, Roni, and Deo write down our projects for 2018 to motivate us towards actual completion.
#1 and #2 are both me, but #3 is her suggestion, and now I am honorbound as an Elven Prince to actually do it. Well, try anyway. Ha!
(Do or do not, there is no try.)
Meanwhile, over same said lunch, we:
Gorged ourselves on delicious Negrense fusion cuisine (Sarsa's menu is chocful of amazingly delicious food, including fusion Beef Rendang, Sisig Inasal, and Sinigang Fried Chicken Wings – you need to try this place out)
Leave a Comment
:Friends, Jessica Zafra, writing
more...
by allancarreon on Sep.13, 2016, under Film & TV
Courteney aced it, of course, though she did struggle with Ugly Naked Guy. Then again, who wouldn't? Besides, she offset it with saying "The Days of Our Lives" instead of simply "Days of Our Lives" since, technically, Joey incorrectly thought it was The Days of Our Lives.
Yeah, I'm a Friends addict.
Leave a Comment
:Courteney Cox, Ellen, Friends
more...