Archive for July, 2019
by allancarreon on Jul.19, 2019, under Music & Theater, Society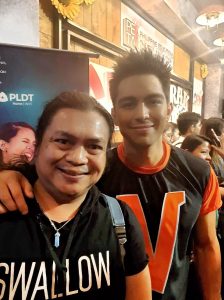 I can never get enough of Rak of Aegis. Recently, Season 7 opened, and of course I had to see it again (third time, the most recent being last year).
What I love about Rak is that – like many original Filipino musicals like Zsazsa Zaturnnah, Ako Si Josephine, and Kung Paano Ako Naging Leading Lady – every run adds new spins. Updated jokes that reference current events and pop culture memes are inserted, making each run feel fresh again while retaining everything that made the show successful.
Rak of Aegis Season 7 is such an experience. On top of small reinventions, new cast members are placed into the mix, giving returning audiences the opportunity to see different interpretations of classics.
And so it goes that we once again experience the travails of Bgy. Venizia, which gets flooded for months after a the construction of a gated community nearby prevented proper drainage. Against this backdrop and the backdrop of a social media age where virality is the way to fame, the community's diverse array of residents struggle to cope with poverty, love, friendship, and ambition. (continue reading…)
Comments Off

on Let's Rak Again
:Derrick Monasterio, musical, musical theater, Poppert Bernadas, Rak of Aegis, Renz Verano, Shaira Opsimar, Sweet Plantado
more...