Archive for February, 2019
by allancarreon on Feb.16, 2019, under Snark, Society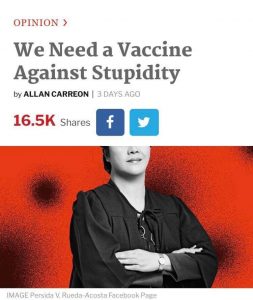 Nowadays, approximately 95% of the time, I avoid the comments section (and consequently, the engagement info) of politically-charged articles because I value my health. The amount of toxic idiocy on Facebook public "areas," in particular, is astounding. More so when it comes to political articles I write, I try not to look at the comments lest I engage and then get the urge to bludgeon the nearest available moron.
A recent article I wrote for Esquire apparently got about 16.5K shares as of this writing (one of my folks at work sent me a message about it). Not bad. It did kind of pull me in a bit to check what sort of engagement it was getting. Surprisingly, most were positive and agreed with my piece, although as expected there were a few morons here and there.
Leave a Comment
:politics, social media, socio-politics, writing
more...