by allancarreon on Sep.12, 2017, under Geeky, Literature

Len Wein was a comic book legend.
I mean, he only co-created Swamp Thing and this little-known character called Wolverine.
He was an accomplished comic creator, both as writer and editor, and won multiple awards. He was inducted into the Will Eisner Comic Book Hall of Fame in 2008.
Over at Marvel, Len was instrumental in reviving the X-Men in the early 70s with artist Dave Cockrum, co-creating Storm, Nightcrawler, and Colossus. Without their work, the later Claremont run would have been nothing. The X-Men, as we know it now, would have never come to pass without Len. He also wrote for Daredevil, The Incredible Hulk, The Amazing Spider-Man, Thor, Fantastic Four, and Marvel Team-Up.
Over at DC, he also co-created the first Russian superhero in that universe, Red Star, as well as the Human Target and the villain Libra (who would later be pivotal in Final Crisis). He had highly-regarded work writing such a wide array of books such as Detective Comics, Green Lantern, Justice League of America, The Phantom Stranger, and The House of Secrets. Len also wrote the memorable Batman/Hulk crossover for DC/Marvel. He provided scripts for the post-Crisis DC rebuilding cross-over Legends, which was plotted by John Ostrander.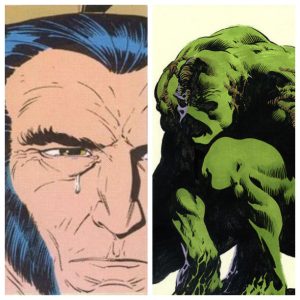 Len also had oversight, as editor, for books like The New Teen Titans, All-Star Squadron, and perhaps most notably, the critically-acclaimed Moore and Gibbons classic Watchmen.
As a Wonder Woman fan, however, I will perhaps hold Len closest to my heart for his contributions to the Wonder Woman comic book in the late 80s, when George Pérez rebooted the character after Crisis on Infinite Earths. George, who at that time had built a career as a superstar artist, was comparatively new to writing, so he plotted out (and drew) Wonder Woman but initially had someone else script the book. After Greg Potter did the scripts for the first two issues, Len took over scripting duties on Wonder Woman and remained involved for the next couple of years. To date, Len's work on Wonder Woman with George remains to be some of the absolute best for the character in her 75+ years of history.
On 10 September 2017, Len Wein passed away at the age of 69.
Len Wein was is a comic book legend.

:DC Comics, Len Wein, Marvel Comics