by allancarreon on Aug.25, 2017, under Film & TV, Queer, Society, Travel & Culture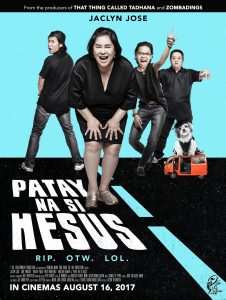 Continued From:
Despite the unrelenting hilarity throughout Patay Na Si Jesus, it must be noted that this is smart humor. No, this is not a movie that's all slapstick and puns and repetitive shallowness (I shan't name names). This is a movie where humor is intelligent and is derived from situation and circumstance, not from tired and forced jokes that just make their way into the dialogue without really being earned. In this movie, we have real people who find laughter in real situations; we end up laughing with them and not at them because we actually see ourselves in all of these characters.
And so we also empathize with them.
Case in point: one of the best scenes is Jude's breakup moment with his partner Mary. It is a scene full of nuance, devoid of melodrama so prevalent in other Pinoy films. It perfectly captures a tender and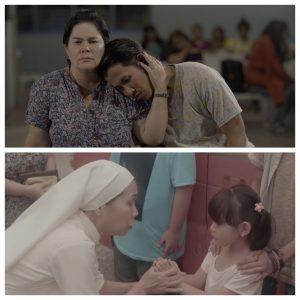 heartbreaking discussion without the typical hugot or emotional blackmail other films are guilty of. It's also not without a sprinkling of subtle humor, the kind we ourselves resort to in awkward situations. Best of all, it is one of the most affecting and real depictions of an LGBT couple, a rarity in local film.
Perhaps one of the reasons why I also could relate to this film so much is how the three children are pretty much me and my brothers, albeit in a different birth order: the special child, the LGBT child, and the one who knocks someone up at a young age. Obviously, there are still significant differences, but it's reflective of just how much the movie chooses to be something more real than the average film.
And that is what makes it work even more: that this movie strives to be real while still being endearingly absurd.
For example, the choice of doing away with "known faces" for most of the the main cast gives the impression that this could happen to any normal family. This film would not have worked as well, for example, if the siblings were, say, Gerald Anderson, Maine Mendoza, and Enrique Gil.
The premise is also nothing unusual or "movie-like." Road trips to attend funerals of relatives are commonplace in the country. It deals with and successfully balances a wide variety of themes: LGBT, PWD, unemployment, job security, single mothers, life and death and how people deal with it, broken families, religion, and more.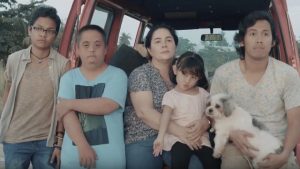 The situations encountered are also very typical, and the responses to those situations are also generally true to life. The film even goes meta in pointing out that there is no place for melodrama here, that real life isn't some hysteria-filled Pinoy soap opera.
And yet, despite the simplicity of the premise, it is actually a very layered story, one that respects its audience enough to know they can understand the complexities of the characters and situations without having to spell it all out for them. Despite the zaniness, these are three dimensional people who have struggles, flaws, and fears bubbling underneath. These characters are human.
You know, just like you and me.
It's also genius that the movie is largely in Bisaya (with English subtitles). Aside from setting the realism even further – for why would a Cebuano family be speaking in Tagalog? – it reminds us that the Philippines is not just "Imperial Manila" (and I say that as a Manileño). We are a country rich in diverse cultures, and it's great to see better representation of our various geographies. I think the only other non-Tagalog language film that has really stuck to my mind is the amazing horror CinemaOne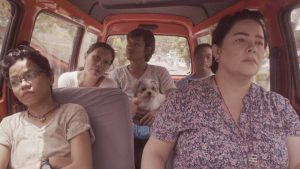 Original Yanggaw, which was in Ilonggo, and I believe we need more of these films made and released nationwide.
Patay Na Si Hesus is the funniest film of 2017 that I've watched so far this year, Pinoy or otherwise. It is a testament to the talents of veteran writers Moira Lang and Fatrick Tabada as well as director Victor Villanueva that this is definitely this year's breakout Pinoy hit, another Zombadings or Heneral Luna in the making. The long lines and jampacked seats at the cinemas prove it.
It deserves another viewing from me, really. And if you haven't seen it and it's still available after the Pista ng Pelikulang Pilipino, go. Now. Run for the nearest cinema.
Or grab a multicab and get there fast and be OTW.
My Rating: 9 out of 10 Stars
Directed By: Victor Villanueva
Starring: Jaclyn Jose, Chai Fonacier, Melde Montañez, Vincent Viado, and Angelina Kanapi, with Sheenly Gener and Olive Nieto.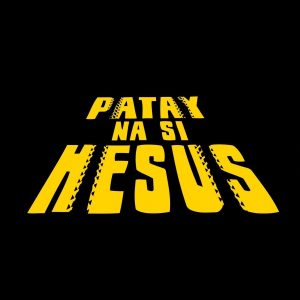 :Angelina Kanapi, Chai Fonacier, Jaclyn Jose, Melde Montañez, Moira Lang, Patay Na Si Hesus, Vincent Viado